Aotearoa welcomes New Zealand Schools Scholarships students from Viet Nam
Education New Zealand Manapou ki te Ao (ENZ) and schools across the motu are thrilled to welcome students from Viet Nam who have been awarded New Zealand Schools Scholarships (NZSS).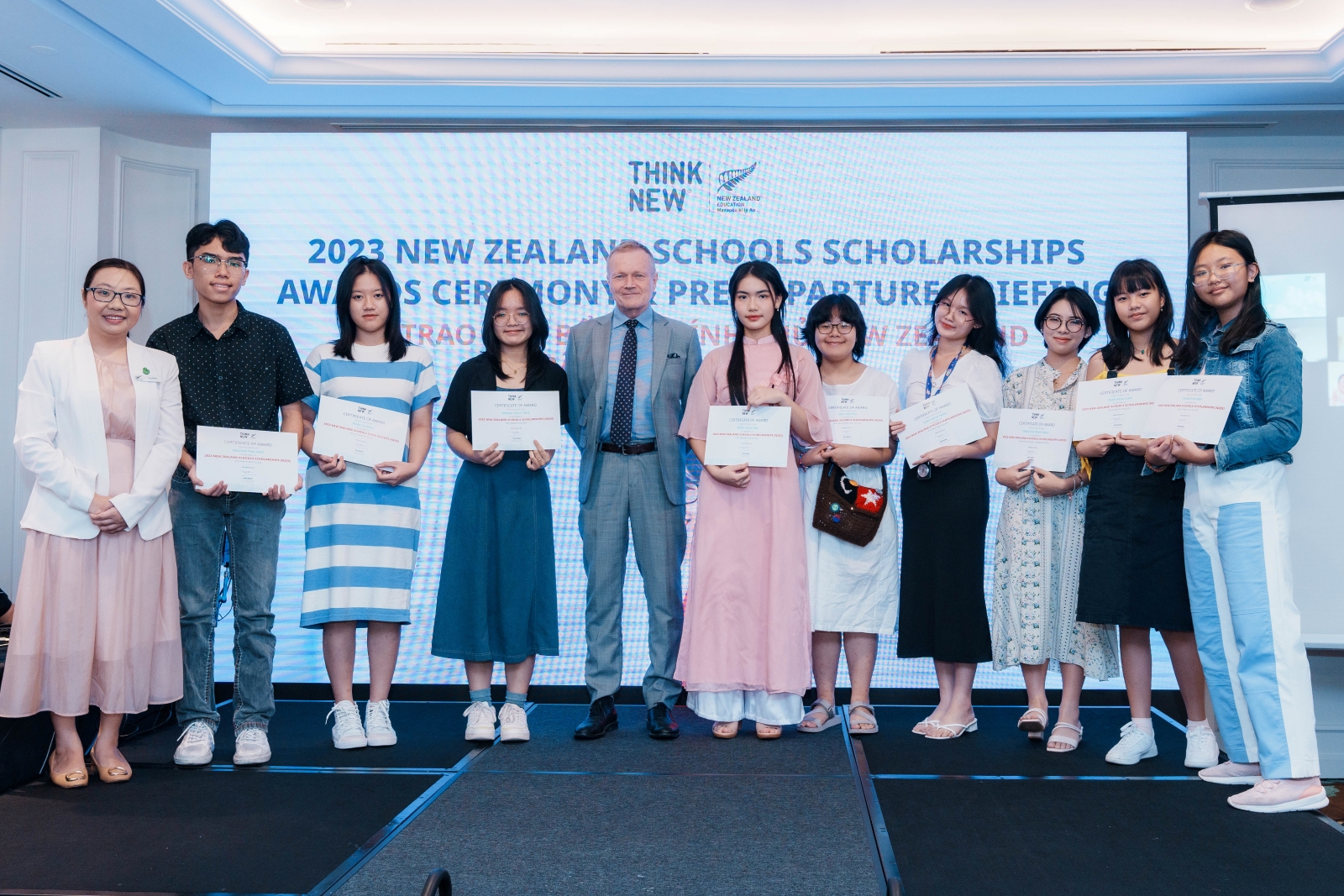 14 high-achieving Vietnamese students will be arriving in Aotearoa New Zealand over the next few months to take up school placements across the country from Kerikeri to Upper Hutt, from Ōtūmoetai to Manawatū.
NZSS is the flagship initiative under the Aotearoa New Zealand School Sector Strategy in Viet Nam. It was launched in 2019 and is exclusively offered to Vietnamese students from Grade 8 – 10. Since its launch NZSS has grown to become a prestigious, top of mind scholarship for local students.
ENZ's Business Development Manager, Mary Camp said that the scholarship programme not only offers talented Vietnamese students the opportunity to experience our country's world-class education but also brings new perspectives and ways of thinking to Kiwi students as they learn alongside international friends.
"Schools in Aotearoa New Zealand are excited to welcome these top scholars from Viet Nam. Previous scholarship winners have had great academic success, made valuable contributions to their schools in NZ, and have gone on to attend top quality universities in NZ and internationally" added Mary.
This year's award winners were celebrated at a ceremony on 18 June in Ho Chi Minh City where H.E Tredene Dobson, New Zealand Ambassador to Viet Nam opened the awards ceremony and pre-departure briefing and congratulated all the students.
ENZ's Regional Director for Asia, Mr Ben Burrowes also congratulated the students via video link and said it was fantastic to have a range of ex-scholarship winners and parents join us to share their tips and advice to this year's winners.
"ENZ is absolutely committed to its relationship with Viet Nam and we are excited to welcome the NZSS recipients this year. The NZSS programme is designed so that more Vietnamese school students can access a world-class New Zealand education experience. As we saw pre-COVID, the NZSS recipients received the highest quality education and care while they were in New Zealand and that will certainly continue in 2023," said Mr Burrowes.
A special thanks goes to the VSANZ - Vietnamese Students' Association in New Zealand for its President's presentation on the Pre-Departure Checklist and the NEW tips.
We wish these students the absolute best for an exciting and rewarding study experience ahead as they start school across the country this week and in the coming months.