Call for speakers for NZIEC KI TUA 2023
Education New Zealand Manapou ki te Ao (ENZ) is pleased to issue a call for speakers for the New Zealand International Education Conference Ki Tua (NZIEC KI TUA) 2023. Submissions will close on 22 May 2023.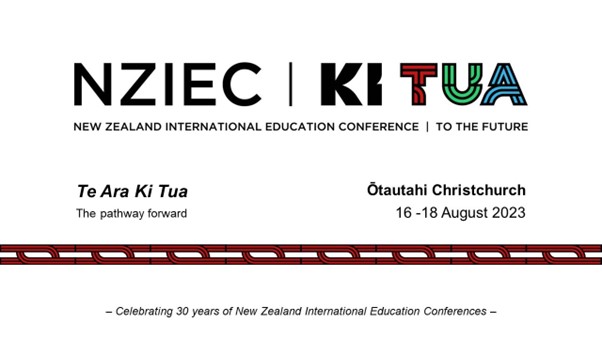 NZIEC KI TUA 2023 will be held in Ōtautahi Christchurch from 16 to 18 August 2023 at Te Pae Convention Centre. A welcome function will occur on Wednesday evening followed by two days of conference sessions on Thursday and Friday.
2023 marks the 30th time our conference will be held, and this year's theme is Te Ara Ki Tua – the pathway ahead. As we celebrate this milestone, our theme encourages us to consider how our sector can thrive in the future.
We're calling for speakers to help us explore the following sub-themes:
Excellent Experiences –

How can we foster excellent experiences for international students studying with Aotearoa New Zealand?




Marketing Smarts –

What are the most effective ways to market to and recruit international students?




Growing Global –

How can we grow our relationships with international partners?




Authentically Aotearoa –

How can our international education offerings tap into what makes our country special?




Fresh Offerings –

How can we develop fresh programmes, products, services and partnerships and take them to the world?




Please refer to the NZIEC KI TUA website here for detailed information on the theme and sub-themes, session formats, tips for your abstract and biography, and speaker terms and conditions.
You can submit your speaking proposal through the NZIEC KI TUA Speaker Portal. Submissions close on 22 May 2023.
If you have any questions, please contact us at nziec@enz.govt.nz.
We hope you will consider joining us at NZIEC KI TUA to discuss the key opportunities and challenges facing our sector as we discuss Te Ara Ki Tua.
An in-person format and early bird registration
Subject to pandemic settings, this year's conference will be an in-person format. Sector feedback revealed a strong desire to return in-person, in part to facilitate kanohi-ki-te-kanohi connections after so many years apart.
We are not intending to offer a hybrid option (in-person and virtual format) this year as this requires additional resources to deliver and a hybrid approach results in inferior experiences for both audiences. To support attendance, and in recognition of the impact of Covid-19, a discounted early bird registration rate will be available this year.