Digital skills and global citizenship at #NZAsiaTech Code Camp
New Zealand students joined teams from seven other countries in the Asia-Pacific region in the #NZAsiaTech Code Camp in late June 2022. This innovative learning exchange programme combined topical global issues with technical coding skills.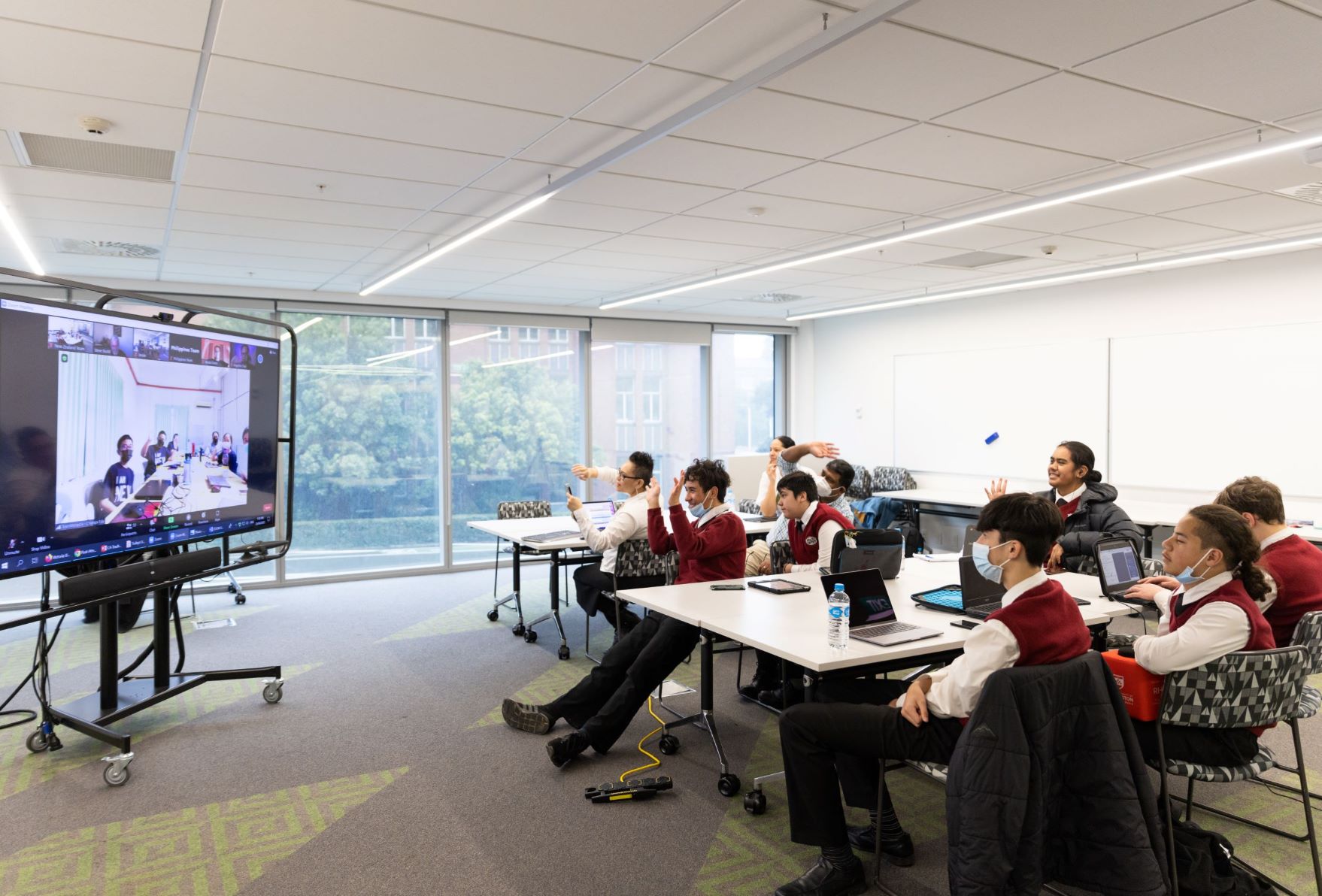 A team of six students from Te Kura Māori o Porirua, a predominantly te reo Māori medium school in Porirua, interacted with school students in Japan, South Korea, Thailand, Viet Nam, Philippines, Malaysia, and Indonesia.  
The overall theme was tourism, seen through the lens of the United Nations Sustainable Development Goals (SDG) - a theme that is highly relevant for the Asia-Pacific region. Students were given the task of profiling their home country's SDG initiatives, with a focus on sustainable tourism.  
The North Asia Centre of Asia-Pacific Excellence partnered with educational coding programme Code Avengers and Education New Zealand Manapou ki te Ao to deliver the event.
"With New Zealand's borders having been closed for more than two years, it's crucial that the next generation of students still have opportunities to build cultural competencies and make connections across the globe," says Education New Zealand's Regional Director for Asia, Ben Burrowes.  
"The #NZAsiaTech Code Camp was an opportunity for Kiwi students to re-establish connections with students in other countries, while gaining critical digital skills to prepare them for the future.
"It also also gave a taste of New Zealand's education offering to prospective international students from the Asia region, who might consider enrolling in high school or tertiary study in New Zealand in the future." 
Code Camps can help to generate subsequent visits by interested students to New Zealand. For example, the Code Camp held at Waseda Jitsugyo School in 2021 and at Waseda University Junior and Senior High School in 2022 has led to Waseda's group students' programme sending around 50 students from three schools to New Zealand for three weeks in March 2023. Code Camp served as a great opportunity for students and teachers from Waseda University affiliated schools to experience our world-class digital education first-hand.
Honam Jeon, the Education Manager at Gangwon International Education Institute said the programme helped increase awareness of New Zealand:
"South Korea is very interested in international engagement and exchange programmes for school students. The #NZAsiaTech Code Camp was a perfect example we want to continue to join. Thanks so much again to ENZ for organising the well-structured programme."   
The online programme included team building exercises, English learning, HTML coding lessons, and the creation of a website by student teams, to demonstrate their understanding of the importance of sustainable tourism.  
"As our students look to enter an increasingly globalised word, developing cultural connections and transferable skills is so important," says Te Kura Māori o Porirua school principal, Whāea Evelyn Wharehinga.
"The Code Camp has been an exciting growth experience for our students, who have extended their digital literacy skills while having the chance to connect with students of different ethnicities and cultures across the Asia-Pacific region."  
The students presented their sustainable tourism-themed websites to a panel of expert judges at the awards ceremony on 2 July 2022, with students from Indonesia winning the top prize.  
Steve Budd of Code Avengers, a global edtech company based in New Zealand, said it was a great programme to participate in. 
"It was a privilege to gift all participants a one-year free subscription to the Code Avengers site as part of our mission to build lasting digital capabilities for educators and young people, and bridge the digital divide," says Budd.