7 November 2018 at 9:00 am
Engaging with Italian students and agents
Student fairs, an agent workshop and a surprise visit to "Follow the Kiwi" scholarship winner Gaia Leidi provided a great opportunity for ENZ's Europe team to focus on promoting New Zealand education in Italy.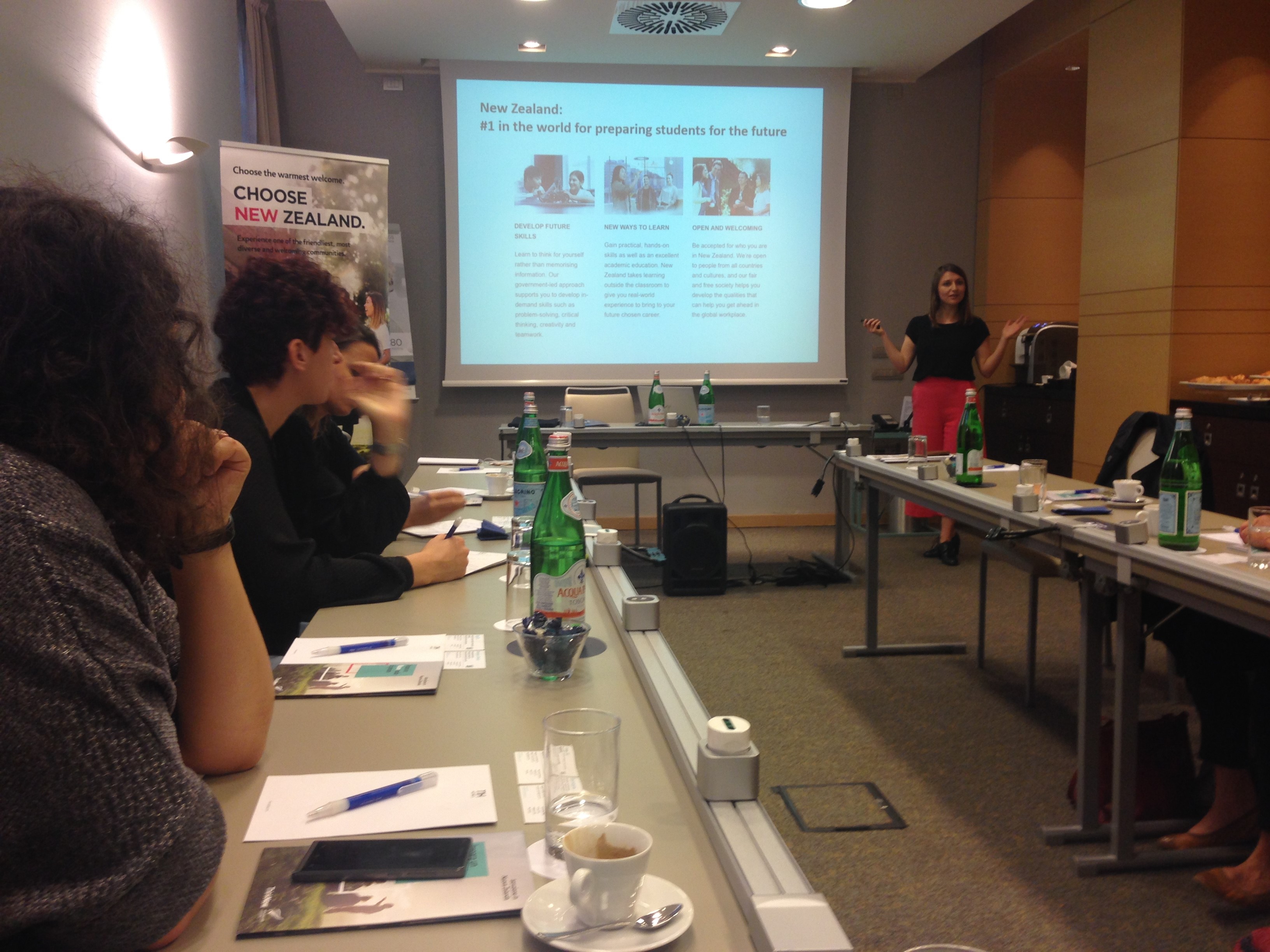 Italy is New Zealand's third-largest source of school students in Europe, the sixth-largest European market across all sectors, and our 25th largest market globally. The number of international students coming to New Zealand from Italy has grown steadily in recent years to 617 in 2017.  
In October, the ENZ team attended bustling student fairs in Rome and Milan, targeting students looking for study abroad opportunities at tertiary level.  
ENZ's Market Development Manager Europe, Olga Elli, said it was a great opportunity to talk to students one-on-one – particularly at tertiary level, there is much interest in postgraduate study programmes.   
"Italian students are really attracted to the idea of New Zealand but their knowledge of our education offering is still fairly low," said Olga.  
"Talking to hundreds of students and making presentations at each fair provided an opportunity to promote New Zealand education. There is also a growing focus on vocational training and pathways to employment – which fits well with our current 'future-proof' messaging." 
Over half of Italian students coming to New Zealand choose to study in Auckland, but education agents who attended an ENZ workshop in Milan were keen to hear more about opportunities in other areas of New Zealand. 
"Italian agents are very engaged and several of the workshop attendees had recently been on a familiarisation visit to New Zealand, visiting Northland, Tauranga, Wellington and Christchurch.   
"We are working with regional development agencies to run a series of webinars for agents in Europe to boost their knowledge, so they have the tools to advise their clients about what New Zealand can offer international students." 
New Zealand's profile as an education destination for Italian high school students was boosted this year by ENZ's Follow the Kiwi scholarship campaign which ran in France, Germany and Italy. Italy led the way in generating digital engagement, with the highest number of visits to the scholarship application page, and a strong showing in completed applications and requests for further information. 
Building on this engagement, Olga paid a surprise visit to the school of Italian Follow the Kiwi scholar Gaia Leidi, from Busto Arsizio, near Milan, who will use the NZ$15,000 award to study at Kerikeri High School from January to September next year. 
"Our visit to Gaia's school generated lots of media attention. She's a huge rugby fan and was blown away to be invited to the All Blacks vs. Italy game in Rome later this month!  
"ENZ intends to build on the success of this year's campaign and will run it again next year – watch this space!" 
If you would like to get in touch with an ENZ Recognised Education Agent in Italy, please take a look here.