18 February 2015 at 9:00 am
Flying Kiwi makes return flight
"Everyone can learn from each other through exchange programmes – new languages and new ways of life."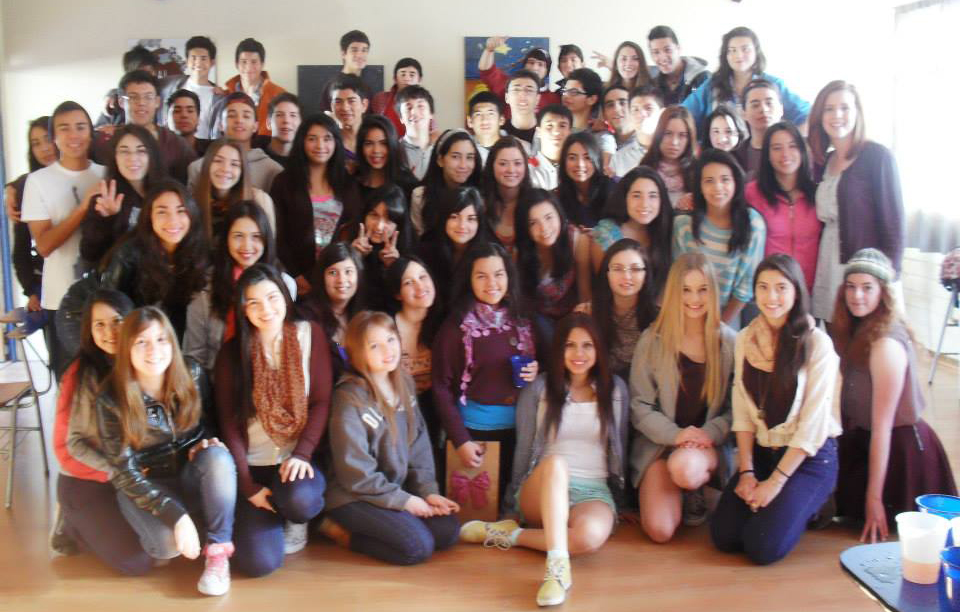 Early in the new year, our Santiago-based Market Development Manager Javiera Visedo received a surprise visit from a familiar face – Flying Kiwi Catherine Lee. Catherine was one of the first group of seven Flying Kiwis to study in Santiago in 2013 and she had come back for a three week holiday in Chile to spend time with her host family.
"Although obviously my visit as one of the Flying Kiwis was very advantageous from a learning perspective, the friendships and bonds I have formed with my host family and classmates transcend language barriers and distance," said Catherine.
Flying Kiwis is an ENZ initiative to send New Zealand secondary school students studying Spanish to Santiago for three weeks to attend school alongside Chilean students. The programme was developed in response to the Chilean Government-sponsored scholarship programme Penguins without Borders which sees Chilean students coming to New Zealand to study. 
Catherine was in year 13 at Northcote College when she was chosen as a Flying Kiwi. At the time, her Spanish was advanced and she gave a speech for the welcome event at the Ambassador's Residence.
With one daughter of their own, Catherine's host family treated her like a second daughter. They loved the experience so much that they hosted another Flying Kiwi last year – they say now they have three daughters.
These days, Catherine is in her second year at the University of Auckland studying towards a Bachelor of Arts majoring in Spanish.
"Travelling to a Spanish-speaking country and learning more about the language definitely influenced my decision to study translation and interpreting at a tertiary level. I could see myself having a career as a translator – I knew that was what I wanted to do with my life," said Catherine.
"I will definitely have an ongoing connection to Chile – I already miss my friends and host family! One day I would like to do another exchange to a Chilean university, or even live there for a while.
Several of Catherine's Chilean schoolmates have plans to travel and study in New Zealand. Her host sister is investigating visas to study and work in New Zealand for a year.
"Even my host family are considering moving to New Zealand, as they have heard wonderful things about living there."
Javiera said that Catherine now speaks beautiful Spanish and her story demonstrates the success of the programme.
"It's great to see the long-term results of these initiatives. It makes us appreciate even more what we do and most importantly why we do it," said Javiera.
Bottom left photo (Left to right): Catherine's host sister, Javiera Jimenez Ortiz; Catherine; and friend Rubi Ruiz Vallejos
Bottom right photo (Left to right): Catherine's host mother, Elena; Javiera Visedo (ENZ Market Development Manager); Catherine; and host sister, Javiera, at the New Zealand Embassy in Santiago