22 November 2017 at 9:00 am
Go Overseas scholarship brings student leads
While two students were winners of the Go Overseas scholarships, many more insights and student leads were generated for New Zealand providers working in the US and Europe.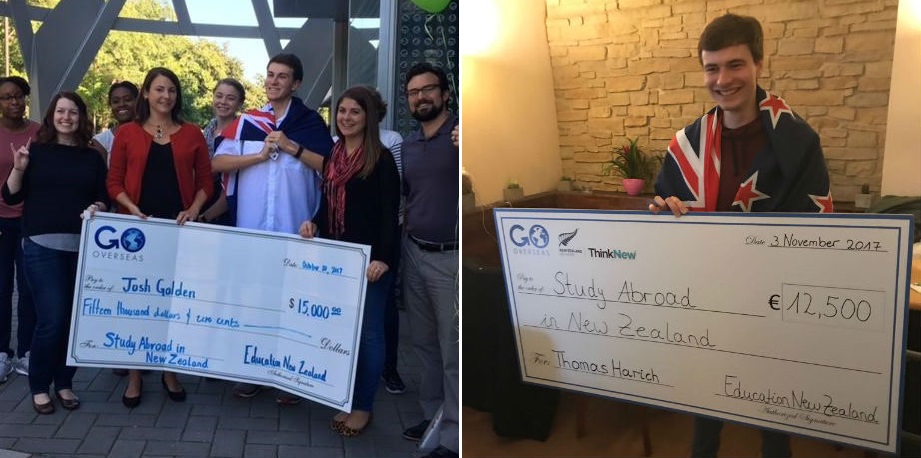 Lisa Futschek, ENZ Regional Director – Americas and Europe, said this is the fourth year that ENZ and Go Overseas have run the US campaign, and decided to launch a pilot scholarship for the European market after seeing the success in the US.
"In the US, the campaign has been particularly valuable to the providers working in-market the last four years – seeing the states where most students apply from, and what areas of study they are interested in, can be a big help to recruitment efforts."
"We committed to a trial campaign in Europe this year in order to get similar insights for industry working in this region." 
The US campaign had nearly 3,000 students apply, with most coming from California, New York, Florida, Pennsylvania and Illinois. The EU campaign also saw a good response for its first year, receiving some 1,500 applications, with the most students applying from the UK, Spain, Netherlands, Italy, France, Germany and Denmark. 
"We're particularly pleased to see that engagement was really high from the UK and the Netherlands – two countries that we have included in our Europe CAP countries of focus for 2018, and where we will be more actively promoting New Zealand education next year"
Lisa said other great things about the scholarship are its paperless application, the recognisable brand it is building, along with the significant reach achieved by Go Overseas through its extensive study abroad networks. 
Six New Zealand institutions have already offered additional scholarships to US students that applied for the Go Overseas scholarship. 
"The goal of this scholarship is to get students engaged and excited about New Zealand from the get-go, so even if they don't win, they will still be invested in studying abroad," said Lisa.
"While only one winner is selected, participating New Zealand institutions are delivered qualified leads with whom they can actively engage to encourage and incentivise them to enrol anyway."
The US winner, Joshua Golden, is a marine science major at North Carolina State University and, supported by the $15,000 (USD) scholarship, will spend a semester at the University of Canterbury in 2018.
The EU winner, Thomas Harich from Germany, is currently studying towards a Bachelor of Sport and Recreation at the German Sport University Cologne. With the EUR 12,500 scholarship, he will spend a semester abroad at Auckland University of Technology in 2018.
ENZ and Go Overseas went incognito to surprise the winners in person. Olga Elli, ENZ's Education Marketing Manager Europe, and Julian Ashby, International Market Manager Americas and Europe, teamed up with Thomas' family and girlfriend to share the exciting news, surprising him in a café as he was ordering a coffee.
Over in the US, Alanna Dick, ENZ Field Director for North America travelled to North Carolina to surprise Joshua with the news on campus, alongside his friends and parents. Watch the video of his reaction here.
If you have any feedback for ENZ on the Go Overseas New Zealand scholarship campaigns, please contact northamerica@enz.govt.nz and europe@enz.govt.nz.