14 September 2016 at 9:00 am
Grow your business with the Skills Lab
Approved New Zealand education providers can now sign up to ENZ's newest support tool, the Skills Lab. This online toolkit will help providers grow their international student recruitment business and features projects, advice, tips, and case studies.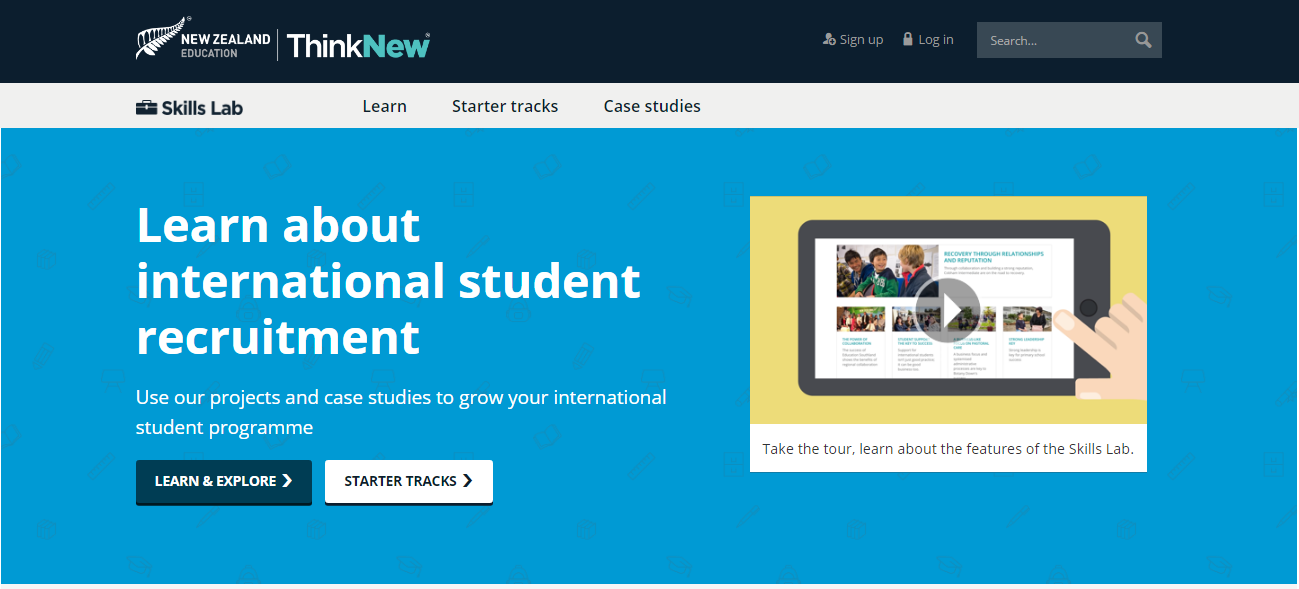 At the heart of the Skills Lab is project-based learning. These projects are designed to give you top tips and advice that you can consume in bite-size pieces. The Skills Lab also allows you to post your own comments and share your top tips so we can develop a professional community.
Collaboration at the heart
The Skills Lab was born of industry feedback. In the 2015 Industry Survey, you expressed a desire for more professional development support, and in particular asked for online support in order for you to access content at a time and location that suits you.
We've since co-developed the Skills Lab with multiple groups of industry representatives, having taken into account your advice on the structure and features of the website, as well as on key content areas. We're already working on a range of refinements that you've suggested, including on individual projects and website functionality.
Helping grow your business
The Skills Lab is already proving useful. Robbie Pickford, International Director of Takapuna Grammar School, told The PIE News at the New Zealand International Education Conference that the Skills Lab helped her institution learn about new markets.
"I've been in the industry for a long time and there hasn't been that go-to place that I could get intel about the market, the country or the culture. The Skills Lab also encourages industry collaboration, with users able to upload their own information and expertise. There'll be more and more information available for the sector. It keeps us growing and thinking towards the future," Pickford said.
Kirstyn Mawdsley, Director International of St Hilda's Collegiate School, also told The PIE News that the Skills Lab would be of particular benefit to New Zealand's regional and smaller providers.
"We don't have the same budget available as bigger programmes, and often we're working in very small departments. Trying to keep up to date with everything and find professional development opportunities is quite complicated. The Skills Lab helps with that and also alleviates the distance barrier," she said.
But wait, there's more!
The current version of the Skills Lab is just the beginning.  We'll continue to roll out new content, so stay tuned for more case studies and international education-specific content over the coming months. We're planning more detailed and useful projects that will help you in your specific organisational context.
We'll also be partnering with individual industry experts to bring you case studies and projects based on their successes. If you have suggestions on content, or would like to offer some of your expertise and contribute to a case study or project, please email us at skillslab@enz.govt.nz.
Sign up and participate
You can access the Skills Lab at skillslab.enz.govt.nz or from the ENZ website.
Make sure you watch the introductory video to learn how you can use this exciting new tool.
Note that only approved New Zealand education providers are able to access the Skills Lab and its content.
If you are experiencing any difficulty in signing up to the Skills Lab, please email skillslab@enz.govt.nz.