Haere ra Afiqah, Haere mai Vikram
New Zealand International Students' Association (NZISA) is the umbrella body that brings together international students from across New Zealand. NZISA is now in its fifth year of operation and fills a vital role in supporting and representing international students while they are in Aotearoa New Zealand.
We spoke recently with the former NZISA National President for 2021, Afiqah Ramizi, and with the National President for 2022, Vikram Selvaraj.
Afiqah Ramizi, NZISA National President 2021
Afiqah has been in New Zealand since 2015, when she left Malaysia to undertake tertiary study here. After completing a foundation course at ACG (now known as UP International College), Afiqah started on a six-year medical degree at the University of Auckland (UoA) and is now in her final year.
Afiqah's advocacy work started during her time at ACG, when she was selected to represent the college under an International Student Ambassador programme, run by the New Zealand Police in Auckland. The main focus was to support engagement with the student community, and lift students' understanding about how to keep themselves safe in a foreign country and what support is available.
At university, Afiqah joined the Malaysian students' association and became Vice President. In 2019 and again in 2020, she was elected as the International Students Officer for the UoA Students Association. During these years, she became involved with NZISA through their multiple lobbying efforts and community engagement. Afiqah was elected NZISA's Vice President in 2020, before being elected National President in 2021.
Looking back on her experience at NZISA, Afiqah says she is proud to have been involved in making sure that the voices of international students were heard as New Zealand responded to COVID-19, amongst many other achievements of NZISA since 2017.
"Last year we were successful in lobbying for temporary changes to international students' maximum working hours, so they could work more during alert levels 3 and 4," Afiqah says. "This was really important for students at a time when their studies were disrupted, and some students were facing financial hardship. This temporary increase was also appreciated by local employers, as they were needing more people able to work full-time, to keep their businesses running."
In her role as National President, Afiqah was involved in supporting the groups of international students coming back to New Zealand while the border was closed. Her team's continuous advocacy to government bodies saw more international student cohort border exceptions announced, which meant more international students were able to return and resume life in New Zealand.
"Staying in managed isolation and quarantine was a big extra cost for these students, and we know many hesitated to return because of that. By talking with the institutions involved and advocating for subsidies, we were able to encourage them to cover part of the costs for their returning students. This was a win-win for both the universities and the students."
Supporting students over the holidays was another key focus for NZISA during the past two summers, primarily to help onshore students who couldn't reconnect with their families while borders were closed.
"We worked with ENZ and our regional networks to encourage summer internships, to remain connected in the international community and to indulge in the real Kiwi summer," Afiqah said.
Afiqah herself spent the last summer at the coalface of the COVID-19 response work, drawing on her medical knowledge to support public health. She was initially working to find the source of COVID-19 when contact tracing was a key focus, and through the Omicron surge, she has learned other public health skills as the nature of her work changed from eliminating to managing COVID-19.
Now it's time for her to pass on the baton to the 2022 President, and an opportunity to focus on her final year of medical school!
Vikram Selvaraj, NZISA National President 2022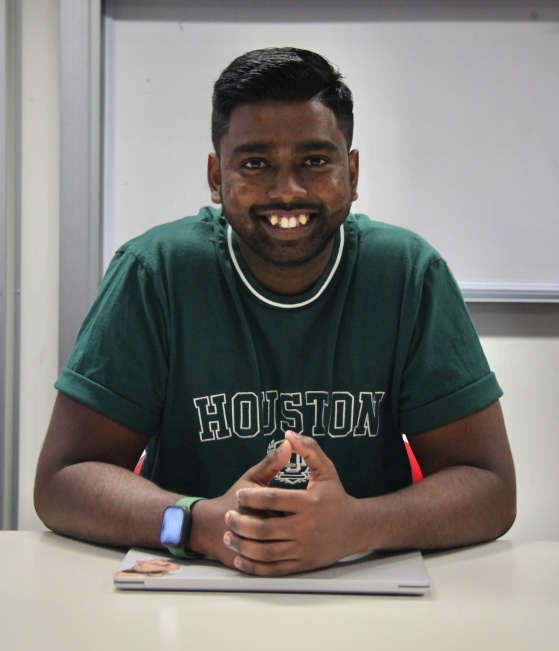 Now in the final semester of a Bachelor of Criminal Justice degree at University of Canterbury, Vikram came to New Zealand in 2018 from Singapore with his partner and began studying here the following year.
"The Bachelor of Criminal Justice was a new degree, and I realised it was exactly what I wanted to study," Vikram says. "It combines law with a range of other subjects, all related to criminal justice."
Vikram is the eldest of three siblings and the sole breadwinner for his family, having lost both parents. His two siblings are still living in Singapore, and Vikram has continued to run a hairdressing salon there during his years in NZ. It's more than three years since Vikram last saw his family in Singapore, but he isn't planning a trip home any time soon, because of the risk that border settings might change again.
Vikram brings a range of relevant experience to his new role as NZISA National President. At University of Canterbury (UC), he was a UniLife Leader, the first to be in charge of mature students, both domestic and international. It was his role to support them, provide pastoral care and a voice on the issues they were facing. His work was recognised with a Blues Award from UC Students Association in 2021, for Outstanding Achievement in Community Engagement.
Vikram is excited about his new role as NZISA National President. He was elected in December and took up the role in late January, along with an all-new executive team of eight students.
"We're planning a number of projects for the year ahead," Vikram says.
UC joined NZISA last year and continuing to increase membership will be one of the priorities for Vikram and his team this year.
"We also have ideas for a range of projects for students that different members of the team will lead during the year. This includes working with NZ Police to help students understand the risks of scams and online gambling; supporting students with resources to combat racism and discrimination; and empowering women."
Vikram says it's his belief that he can do something that has brought him to where he is today. He's very conscious of the challenges faced by many international students, for example when their financial situation changes, and they find it hard to get the support they need.
"Kiwi students aren't always aware that international students are paying a premium price for their studies," he says.
"Sometimes students feel homesick, or experience racism – whatever the particular challenge, it's important for them to know that someone is listening to them."
Fun fact about Vikram: Vikram has a Japanese Spritz dog called Tiger that he brought with him to New Zealand.
Sahinde Pala, ENZ's Director Student Experience & Global Citizens, says ENZ sets great store by our relationship with NZISA.
"We have really valued the contribution Afiqah has made during her years with NZISA, and we look forward to working closely with Vikram and his team over the coming year," Sahinde says.