28 February 2018 at 9:00 am
Kiwi coaches train Tokyo students
Forty Japanese high school rugby players enjoyed rugby training and English and Māori language lessons at a Game On English (GOE) Rugby Demo Day in Tokyo earlier this month.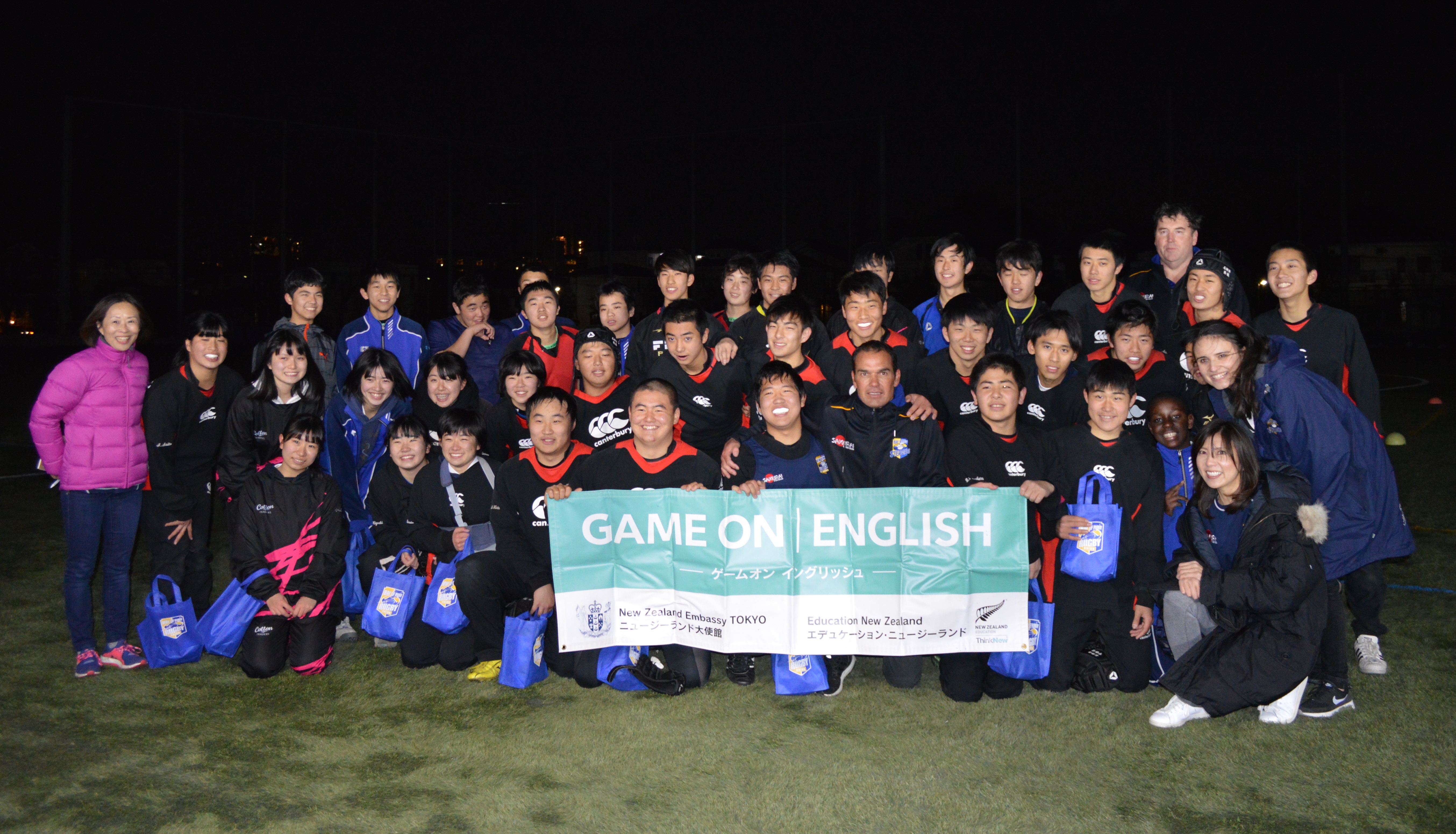 The GOE Rugby Demo Day was held at the Tokyo Metropolitan Oizumi High School. It was hosted by ENZ in partnership with Tokyo Metropolitan Board of Education and Street Rugby Alliance, a foundation led by Japan's Ministry of Education, Culture, Sports, Science and Technology, dedicated to the development of rugby in conjunction with Japan's hosting of the Rugby World Cup in 2019.
Two coaches from the Bay of Plenty Rugby Union came to Tokyo to lead the rugby training: Mike Rogers, CEO of Bay of Plenty Rugby Union and Wayne Brill, International Programme Manager and Campaign Manager for the Bay of Plenty Steamers. Together, they led the enthusiastic high school players in an intensive rugby training session on the field. 
The coaches also participated in a series of media interviews including a local TV station and called on government agencies such as Japan Rugby Football Union and the Sports Agency.   
Misa Kitaoka, ENZ's Senior Market Development Manager – Japan, said the event was a huge success, and contributed enormously to New Zealand-Japan education relations.
"Demo Day provided an excellent opportunity for our government partners to see the actual delivery of the programme and see the quality of New Zealand's education and sports offerings," said Misa.
"I can definitely see the heightened interest in rugby in Japan, and it was great timing for ENZ to promote the GOE programme together with Bay of Plenty Rugby Union, an experienced rugby provider that also works closely with Education Tauranga." 
"Students were so enthusiastic that we finished the programme by high-fiving each other and saying 'kia ora'!" 
GOE Rugby was launched in 2014 in response to the Japanese government's goal to improve the English language skills and sporting capacity of Japan's young people, in preparation for the 2019 Rugby World Cup and 2020 Olympics.
ENZ looks forward to promoting New Zealand's sports and English learning package in Japan by leveraging New Zealand's strong country branding via the 2019 Rugby World Cup.