17 October 2019 at 9:00 am
From the CE: Committed to a quality student experience
When Prime Minister Jacinda Ardern met with alumni in Tokyo last month, she asked them about their experiences studying in New Zealand. Their responses about feeling safe, welcome and supported while studying here are a timely reminder of the importance of pastoral care to support students' educational achievement and to ensure they have a positive experience.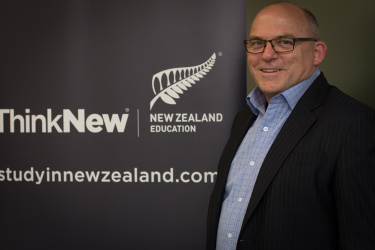 I therefore welcome the Government's announcement this week of a new, interim code of pastoral care for domestic tertiary students in place for 2020. New Zealand is a world leader in providing pastoral care to international students and has had a code in place since 2002.
The domestic code will complement the Education (Pastoral Care of International Students) Code of Practice, which provides assurance about the quality of the New Zealand study experience for prospective international students and their families.
The interim domestic code will not affect international students next year.
Providers, however, need to be aware of one important change that affects them. The Government is introducing new offences and penalties which will also apply to institutions enrolling international students. These offences and penalties are for severe breaches of the Code. Providers can comment on the Bill during the Parliamentary Select Committee submissions process this month.
Next year the Government is developing a permanent Code of Practice which will include opportunities for the sector to engage and contribute to its development. It also provides an opportunity to address any gaps in the current Code of Pastoral Care for International Students, in time for 2021.
ENZ is committed to a quality experience for all international students.  We have worked with providers and students to develop resources for students to support their journey – from discovering New Zealand as a destination, through their decision-making process, while they study here, and up until the time they depart and become 'ambassadors' for New Zealand. We welcome the use of these resources by our industry partners to support your work with international students.
Resources like Study in New Zealand help students considering New Zealand as a destination. International students can search for courses and scholarships and register with My StudyNZ, which matches them with courses and institutions and enables them to track their applications.
NauMai NZ provides information on life as an international student living in New Zealand.  It focuses on their support and wellbeing, helping them to make social connections and reducing the possibility of students feeling overwhelmed. It includes practical information and advice on everything from how to open a bank account to understanding Kiwi slang.
I'm also proud of our new campaign, 'Ask New Anything', launched last week. It features students providing unscripted answers to real questions from prospective students. It's our most technologically advanced campaign to date using Tohu, a chatbot, to answer questions about studying and living in New Zealand. 
I invite you to have a look at this and our other resources and to share them with your teams and international students.
After all, our shared goal is to ensure international students are well-informed and supported to enjoy a high-quality education and experience here in New Zealand.
Ngā mihi
Grant McPherson
Chief Executive, Education New Zealand – Kaihautū, Manapou ki te Ao