Meet the Team: Lisa Futschek
As General Manager – International, Lisa manages ENZ's international network, setting the strategies and overseeing the day-to-day operations of the 36-strong team spread across over 20 locations globally.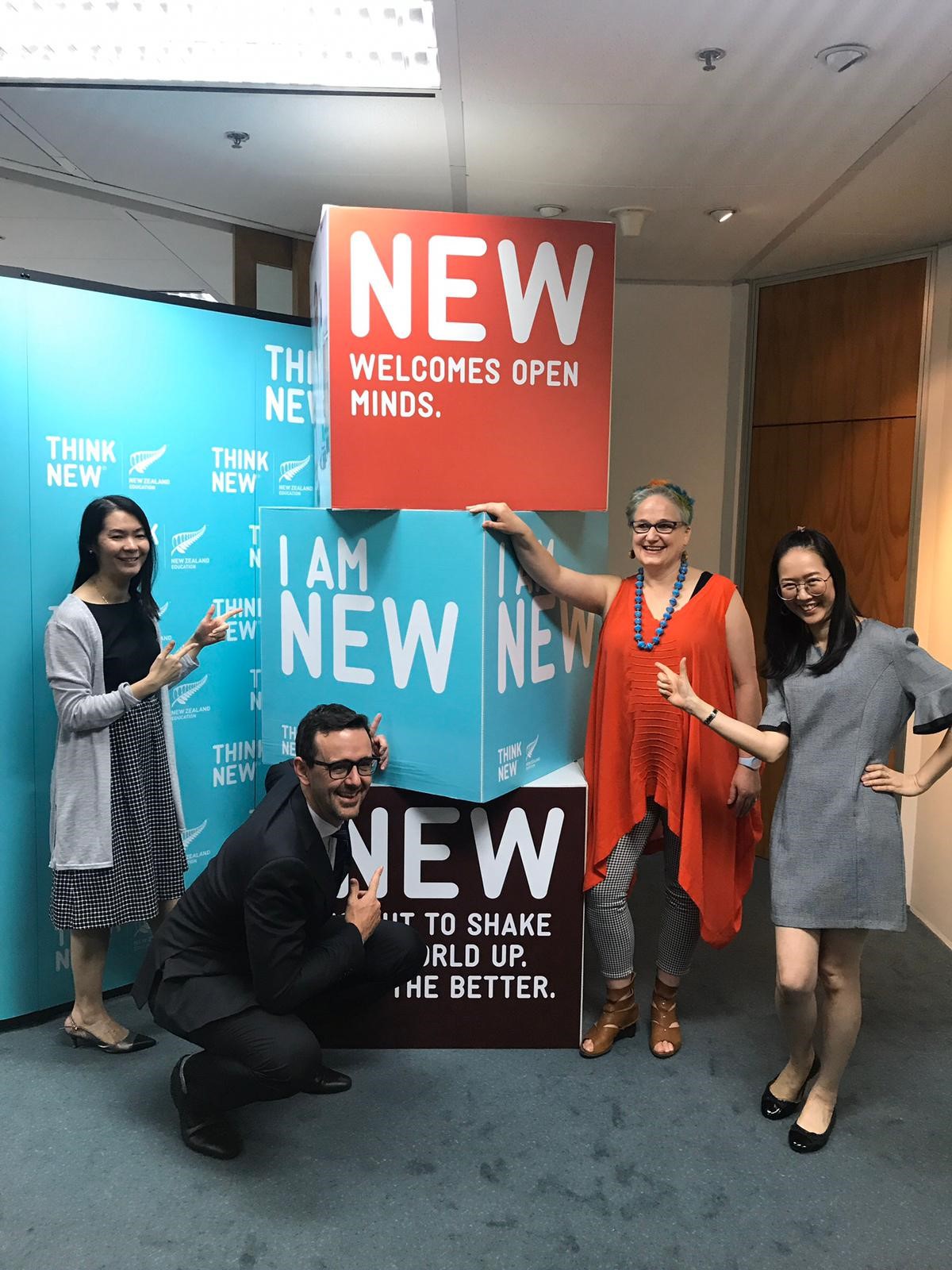 Hi Lisa. Could you please outline your own role and the role of the International team?
ENZ's International Team delivers on the strategies our organisation sets to best position New Zealand as an education partner in our key offshore markets. It's a two-way flow with our skilled offshore teams not only delivering a vast array of in-market initiatives, but also providing crucial market intel contributing to the setting of our core strategies and objectives.
We ask a lot of our teams. Not only do they bring crucial language skills and a deep understanding of the cultural context, but they are also marketers, event organisers, Government-to-Government experts, relationship managers, skilled communicators and more. They need to be as comfortable talking with a Minister as they are with a student seeking an education in New Zealand.
My role is to set the direction, to coach, mentor, energise, and to ensure that the output of our team plays its part in realising the overall vision of our organisation.
How is the COVID-19 pandemic impacting your team's work?
The impacts of COVID-19 on the International Team's work have been wide-ranging.
The first order of things related to the closed borders and the need to cancel, postpone or re-imagine the large number of in-market events that had been planned.
At the same time, there was a square focus for both ENZ's off- and onshore teams to support the experience of those international students who remained in New Zealand or had been unable to get here. This included everything from their access to online learning, accommodation needs, physical and emotional wellbeing, support through hardship, visa queries and connection to repatriation flights.
Throughout all of this, the offshore teams have been heavily engaged in communicating with a full range of stakeholders – students, parents, agents, industry partners, NZ Inc partners and governements – to keep them abreast of developments and to assist in responding to their wide-ranging information needs.
Can you tell me a bit about your own professional background?
I've always been interested in international relations. I spent 18 years as a career diplomat with the Ministry of Foreign Affairs and Trade (MFAT), living and working in Chile, Germany and New York City.
Through those 18 years at MFAT, I gained an understanding of New Zealand's place in the world. There is no doubt that we punch above our weight. Positioning our nation globally through diplomacy is highly rewarding but it is also a long game.
What I have found particularly satisfying since joining Education New Zealand in 2013 is the short gap between effort and result. We get to see very quickly the impact of our work on thousands upon thousands of people whose lives have been transformed by a New Zealand education. I'm proud to be able to play a part in that.
People might think that diplomacy is something which happens exclusively at embassies and at a Government level. But in fact, education diplomacy is part of our organisaton's DNA. And through our alumni we have created an enormous international network of ambassadors for both a New Zealand education as well as everything else our country has to offer.
What do you do in your spare time? Can you tell us about the choir you sing in?
Yes! I've been in a local choir called the Doubtful Sounds since 2014. It's wonderful. It's complete "me time". It's away from work, it's away from the family, it's an escape from the normal preoccupations of life. I find it completely joyful.
I love making music with other people. We're not too serious; it's not an auditioned choir and reading music is not a pre-requisite. I love the fact there's a whole range of people involved. Our choir master Bryan Crump (of RNZ fame) is a brilliant musician and arranger of music, and is very active in getting us in public. We sing at weddings, flash mobs in the street, the Fringe Festival, slots on RNZ. We sang last year in the Wright's Hill gun implacement and at this year's Newtown Fair.