27 October 2022 at 11:00 am
New ECA signed with US institution
Our first-ever education cooperation arrangement to be written in both te reo Māori and English was signed last month in the United States, and will support greater diversity, equity, and inclusion in international education.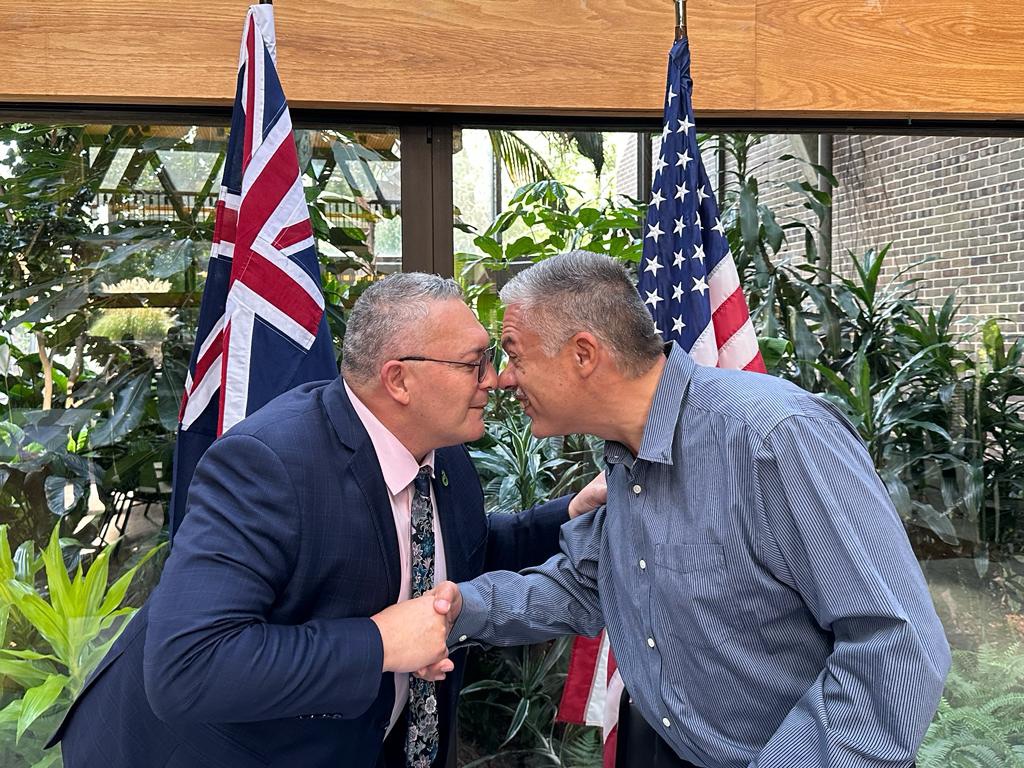 Increased opportunities for students and researchers from diverse backgrounds to study and carry out research in New Zealand, and more international opportunities for Māori will result from the new agreement between the Louis Stokes Alliance for Minority Participation-National Science Foundation International Center of Excellence (LSAMP-NICE) and Education New Zealand Manapou ki te Ao (ENZ).
The Embassy of New Zealand in Washington DC was the venue for the annual general meeting and conference of LSAMP-NICE on 29-30 September 2022. Representatives of 60 LSAMP institutions across the US attended, as well as international partners including the University of Toulouse, the French Embassy, a Te Kāhui Amokura delegation, and ENZ. The role of Te Kāhui Amokura is to advance and promote the collective interests of New Zealand's universities to improve outcomes for Māori, and the delegation comprised:
Rawinia Higgins, Deputy Vice-Chancellor, Māori, at Victoria University of Wellington (VUW)

Meegan Hall, Assistant Vice-Chancellor Mātauranga Māori, VUW

Fiona Johnson-Bell, Senior Manager, Education and Māori, Universities New Zealand

Tim Manukau, Mātauranga Co-Director, University of Waikato Environmental Research Institute

Megan Ranapia, PhD student, University of Waikato

Kirita-Rose Escott, PhD student, VUW.




ENZ Manukura Chief Advisor Māori, Ed Tuari, welcomed attendees with a mihi whakatau, and Lance Fisher (Northern Cheyenne) responded with a traditional Northern Cheyenne song. The meeting ended with the signing of the new agreement by Steve Dupuis, LSAMP-NICE Project Principal Investigator, Salish Kootenai College, and Ed Tuari on behalf of ENZ.
"We are working to build people's understanding of New Zealand as a country with a unique bicultural heritage and strong social justice values," DuBois Jennings, ENZ's Director of Engagement, North America said.
"The new agreement reflects that New Zealand is an ideal education destination for students from historically marginalised backgrounds, and it opens up exchange possibilities for Māori and Pasifika students from New Zealand to experience education on US campuses.
"We have been developing these relationships over several years, including at NAFSA earlier this year. Future possibilities include agreements between LSAMP-NICE and individual New Zealand providers."
In late 2021 the National Science Foundation, Te Kāhui Amokura and ENZ worked together on a series of virtual information exchange sessions, which covered indigenous language research, indigenous data sovereignty, and the impacts of climate change on indigenous communities. More than 150 experts took part, including Native American, Alaskan Native, Native Hawaiian, and Māori scholars.
LSAMP-NICE is funded by the Louis Stokes Alliances for Minority Participation (LSAMP) programme, an alliance-based programme which aims to diversify the science, technology, engineering and maths (STEM) workforce in the US by increasing the number of STEM degrees awarded to historically underrepresented populations, specifically African Americans, Hispanic Americans, American Indians, Alaska Natives, Native Hawaiians, and Native Pacific Islanders. Salish Kootenai College, a Tribal College based in Montana serving the Confederated Salish and Kootenai Tribes, is LSAMP's lead institution.