New resources for practitioners and international students from ISANA NZ
With the steady return of international students, ISANA NZ is working hard to assist with the development of products and services that support the international student experience.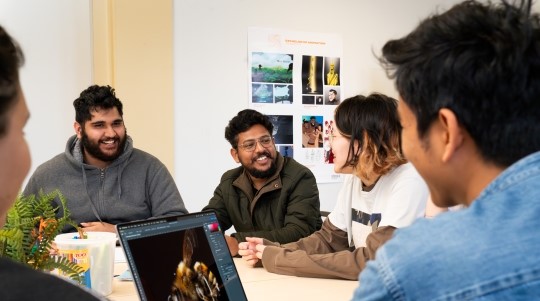 To achieve this work, ISANA NZ is delighted to be engaged in an International Student Wellbeing Strategy (ISWS) supported project with Studio C Design and Lift Education. Over the past few months, a series of resources has been developed to assist practitioners and promote a rich experience for international students in Aotearoa. These resources have been tailored to the needs of key sector stakeholders: international education practitioners and international students (primary, secondary and tertiary).
International education practitioners
Six micro-online learning modules have been developed to help international education staff provide the best possible support for their students. The modules build on the recently developed Capability Toolkit content that ISANA NZ produced with support from Education New Zealand Manapou ki te Ao in response to the impact of the prolonged border closure.
Micro-learning is an increasingly popular form of work-based learning, because it is delivered in more manageable chunks and enables learners to absorb and retain more information.
These interactive modules capture industry expertise and engage staff with six crucial topics:
Intercultural tools for supporting international learner mental health

Supporting the international learner transition

Methods for reviewing and improving your international services and products

Learning from critical incident case studies

Effectively supporting international learners' social connectedness

Supporting international learner employability
To ISANA NZ's knowledge, this is the first example of micro-learning for international education practitioners in Aotearoa, and it lays an important platform for sector-specific credentials development.
Primary and intermediate aged learners
An interactive activity sheet has been created for learners at primary/intermediate level to play with an adult. The game presents several activities for the student to participate in at home, in school, and in their local community. Learners can tick off each activity as they weave their way through the worksheet, and through their own community.
A series of tips for settling into New Zealand life can be found among the fun illustrations that cover the activity sheet. Both the primary learner resource and staff eLearning modules will be available on the ISANA NZ website at the end of this month.

Secondary school students
Five documentary style videos highlight international students Alan (from Mexico) and Carren (from China) who currently attend Wellington High School. The videos follow their day-to-day lives as they navigate challenges such as understanding a new culture, settling in and coping with being far away from family back home.
Each of the videos will have subtitles in Mandarin, Hindi, Vietnamese, Korean, and Bahasa Malaysian.
Watch along as Alan and Carren get to know other students and people in their community:
Tertiary students
For tertiary students, three podcast episodes have been produced. The podcasts feature panel host Vaelyn, an international student graduate and business owner, as they engage with panelists:
Ami from India, studying a Bachelor of Nursing at Universal College of Learning (UCOL) Te Pūkenga, Palmerston North

Pulak from Bangladesh, studying a Masters in teaching English as a second language at the University of Auckland

Melanie from Malaysia, studying on the Foundation Programme at Up Education
The students share stories, anecdotes, challenges and vulnerabilities while they kōrero about topics such as being part of local communities, coping with stress, dealing with racism, taking positive wellbeing steps, and making most of their time in Aotearoa.
Listen to the students kōrero about life in Aotearoa here: https://www.podbean.com/eas/pb-hh6zn-14464ea
Each video and podcast is accompanied by a downloadable PDF detailing tips and tricks for students. You can find all these materials under the Student Resources page on the ISANA NZ website.