31 January 2018 at 9:00 am
New Zealand education promoted in France
ENZ Europe has led a number of activities to raise awareness of New Zealand as a study destination for French students, and to build closer links with agents.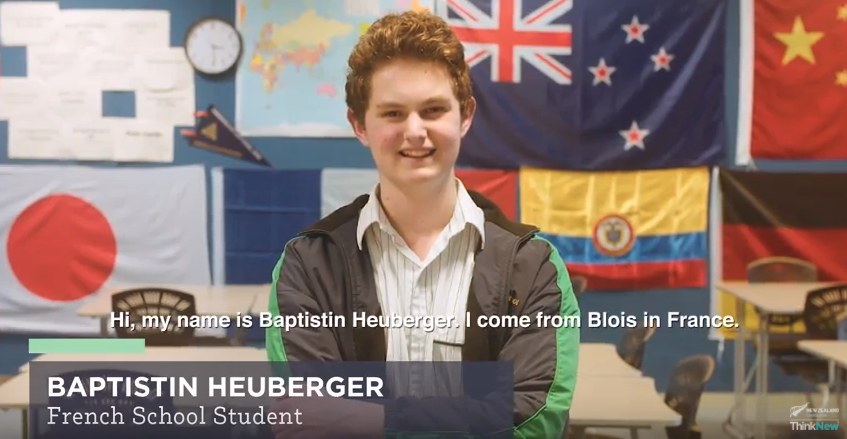 To promote New Zealand as a study destination for French high school students, ENZ has developed a 'NZ story' video about Baptistin, a high school French student who studied in Auckland. In the video, Baptistin talks about the encouragement he received from Kiwi teachers, the diverse range of subjects available to students and the welcoming nature of his homestay family.
The video has been promoted on the Study in New Zealand Facebook page and saw a large increase in visits to the website with students hungry to learn more about studying in New Zealand.
Olga Elli, ENZ's Education Marketing Manager for Europe, said although the purpose of the video was simply to raise awareness, it has also brought a number of referrals.
Last week Olga represented ENZ at Partir Étudier À L'étranger – the largest student fair of its kind in France, a chance for French students to connect with international institutions.
Olga said the student fair was a fantastic opportunity to raise awareness of New Zealand's education system, which she says is still unfamiliar to many French students and parents.
"They tend to know about New Zealand generally but not much about our schools and universities. Surprisingly, the majority of students we spoke to were interested in full degrees.
"It shows that while there are many French students interested in going abroad, we need to continue raising the profile of New Zealand's quality education system, and also highlight its flexibility and pastoral care.
"These aspects resonate well with French students and parents, and can help turn their interest into applications."
ENZ is also working on growing the French market by building closer links with agents.
"The two main agent associations in France, L'Office and Unosel, both have a large number of agents as members, and can be a great first point of contact for New Zealand schools," said Olga.
"We're looking at hosting agent events and agent famils later this year, as well as setting up an agent promotion fund. Hopefully, these initiatives get them excited about New Zealand as a study destination for prospective students."