NZ-China Tripartite Partnership Programme Update 
The 2023-24 New Zealand – China Tripartite Partnership Fund recipients are announced while Education New Zealand Manapou ki te Ao (ENZ) also catches up with 2022 fund recipients a year on.
First established in 2005, the NZ-China Tripartite Partnership Fund is an ENZ sponsored initiative to support the development of diverse research relationships between New Zealand and China. This Fund supports our wider goals to develop strong global connections and highlight the quality of New Zealand education and research.
ENZ is pleased to announce the 2023-24 New Zealand – China Tripartite Partnership Fund recipients:
"Teaching physical education for the 21st century: Building collaborative partnerships to enhance the teaching of PE in schools"

Associate Professor Alan Ovens, the University of Auckland will partner with Beijing Normal University and Gannan Normal University.

"Identification of molecular biomarkers of pain in red deer"

Associate Professor Kevin Lawrence, Massey University will partner with City University of Hong Kong and Qingdao Agricultural University.

"The Digitalization of School Governance: A Comparative Study of School Governance between China and New Zealand"

Liuning Yang, University of Auckland will partner with Peking University and Guangdong University of Foreign Studies.
ENZ also recently caught up with the 2022 NZ-China Tripartite Fund recipients to hear how their Tripartite Partnership research projects are tracking a year on. Professor Nicholas Rowe at the University of Auckland visited their research partner in May to provide a workshop at Beijing Normal University.
Professor Rowe also virtually presented on their project, Teacher training for creativity and collaboration at the NZ-China Higher Education and Development Symposium 19 May at Yangzhou University.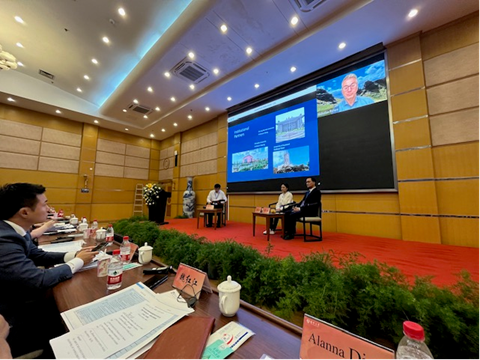 The research project Professor Stephen Croucher and Associate Professor Ming Li from Massey University are working on with their Chinese partners was recently featured as a case study in a publication commissioned by New Zealand China Council. You can learn more about this Tripartite research project, "Protection of the Endangered Languages and Cultural Diversity in West China: A Case study of Miao Minority Language in Guizhou Province, China" in Collaborative Horizons.
Dr Shengnan Wang at the University of Auckland is currently recruiting participants for "The Project Hui: An innovative virtual exchange programme for preservice teachers in New Zealand and China." Wang will travel to China in October to meet with research partners at Beijing Normal University to discuss publication and future collaboration opportunities.
The New Zealand China Tripartite Partnership Programme is experiencing a surge of activity as researchers between New Zealand and China plan and embark on travel to continue their research.