17 September 2013 at 9:00 am
Strong team established in South East Asia
The Education New Zealand (ENZ) South East Asia team, and ENZ General Manager – International, Peter Bull, met for two days in Kuala Lumpur last week.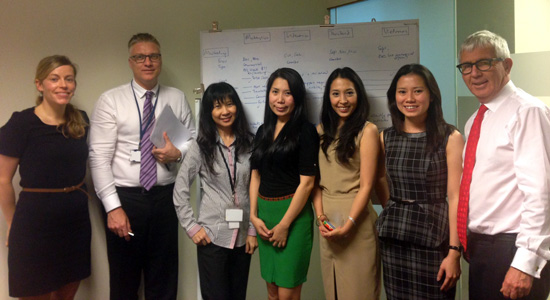 It was first time everyone in the South East Asia team had been together in one location and it was a great opportunity for the them to work on the business plan for the coming year.
Three areas of focus were identified during the planning sessions; first, delivering great marketing events (such as those recently held in Indonesia and Malaysia and soon to be held in Thailand and Viet Nam); second, introducing New Zealand institutions to potential partners and facilitating business development. Opportunities currently being explored in this area include early childhood education in Indonesia and Borneo; vocational education in Viet Nam; and English language opportunities in several countries. The third area of focus is leveraging Government connections and relationships.
Also over the two days, the team spent time working out the best way to 'pitch' New Zealand as a destination for tertiary education to students at selected schools in all countries of focus. The first task was to identify which Year 8-10 students and parents would consider New Zealand as an education destination, and what types of schools they were at; and then, how the team could most effectively raise awareness of New Zealand education as a study destination among this group. The South East Asia team will be trialling a pitch in selected schools soon, and awareness-raising activities of this sort will become an important part of their job at the conclusion of the fairs.
Many of you will already know some of the team – but perhaps only as a voice over the phone, so the accompanying photo shows, from left to right: Sarah Gauthier, ENZ's Wellington-based International Market Manager who supports South East Asia; Izak Human, ENZ's Regional Director – South East Asia; Margaret Low (Malaysia), Yenny Chen (Indonesia); Gewalin (Nan) Lertrasameewong  (Thailand), Dinh Duong (Viet Nam) and ENZ General Manager – International, Peter Bull.
Yenny and Dinh are new to the team and next month Dinh will be in New Zealand for the first time. During her stay in New Zealand, from 10–18 October, Dinh is hoping to gain as much understanding of New Zealand education as possible and would very much like to meet education providers and visit schools and other education institutions
If you would like to meet Dinh and show her what New Zealand can offer Vietnamese students, or discuss your plans for market development in Viet Nam, please email Sarah Gauthier: sarah.gauthier@enz.govt.nz.  (Note: due to itinerary constraints, we may not be able to honour every request, so please understand if we are unable to visit you – but rest assured that we will do our best!)