26 January 2022 at 9:30 am
Student video strikes a chord with Gulf audience at Dubai Expo
Auckland University student Khadija Al Farsi from Oman has become one of the stars of New Zealand's Dubai Expo promotion with her personal video talking of her experiences while studying in New Zealand.

Her video is part of a broader campaign to highlight New Zealand as a country that cares for people and place, through a series of personal stories presented under the theme "I AM". The campaign is presented through the eyes of those who have visited, lived here and want to share their story with the world.
Khadija, who is studying genetics and environmental science at the University of Auckland tells visitors how she is learning to think differently by studying with New Zealand.
The response from visitors was immediate.
"For the audience in the Gulf, seeing a face they identified with was instantly appealing," says NZ Expo Head of Communications and Engagement, Nicola Garvey.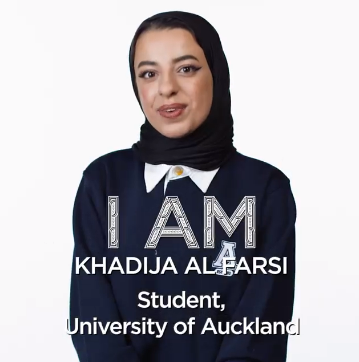 Khadija's message also resonated on Facebook in the region where it attracted over one million impressions in a six-week period. Such was the response to her message that it was selected to run again as part of the promotion of the ENZ Delegation to the Dubai Expo.
To view Khadija's video click here.