10 February 2021 at 3:17 pm
Viet Nam kickstarts 2021 with series of offline student events
Viet Nam, like New Zealand, is one of the few countries in the world that can currently enjoy a relatively normal daily life. Here's how Education New Zealand is taking advantage of this to ensure the New Zealand education dream stays alive in-market.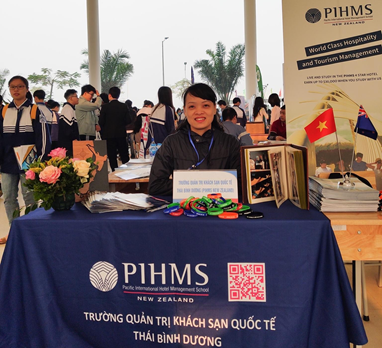 This January, ENZ's team in Viet Nam sought out a number of opportunities for New Zealand providers to appear at in-person or hybrid events.
ENZ has also participated in a series of multi-destination education fairs organised by SiPM and ATS at three top high schools in Ha Noi, university admission day in the northern Vĩnh Phúc province, and a New Zealand University Fair co-hosted by ENZ at Nguyen Sieu school (a long-standing partner for several New Zealand institutions).
As travel restrictions are still in place around the world, these fairs are not necessarily aimed towards immediate student attraction. ENZ is attending these events as part of the marketing and brand protection work that comes under the third workstream of the Recovery Plan for International Education.
Many attendees expressed a wish to study in New Zealand, especially after learning about our successful COVID-19 response.
"Students and parents are still concerned about safety and political stability, so New Zealand is currently being viewed as an ideal destination for study when border restrictions are lifted," ENZ Market Manager – Viet Nam, Van Banh, says.
Viet Nam's economy was heavily impacted by COVID, but data still shows that Vietnam recorded net positive GDP growth in 2020, which is considered an impressive achievement in the present global context. As a result, other study destinations have also kept their promotional activities warm in this market.