18 February 2015 at 9:00 am
Wanted: Good news stories
We are on the hunt for good news stories from institutions around the country to promote New Zealand education in priority markets overseas.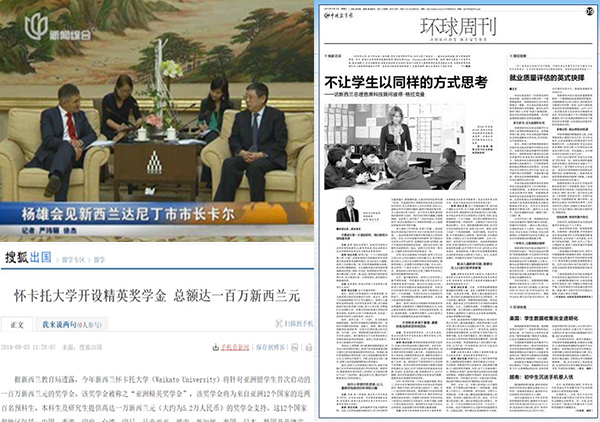 With ENZ teams in key locations around the world, we understand the local media and work with relevant media outlets to get New Zealand stories published, broadcast and onto computer screens.
And we've had some good success – last year ENZ's integrated PR and marketing activity in India won the Public Affairs Asia Gold Standard Award for Country Promotion. 
While we monitor New Zealand media for stories to highlight abroad, we are always looking for innovative and interesting story ideas that showcase high quality education.
Are you launching a new course, celebrating unique student success or releasing new research that would be of interest to international media? Or is your regional group planning a visit offshore? With early notice, we can help to tell your region's education story to the media.
Have you got students or experts travelling in-market who are great representatives of the strengths of a New Zealand education? Give us the details and we'll try and link them up with local media.
Do you have alumni stories of the connections created between countries and people in the years following graduation? We'd love shine a light on them.
Email us at media@enz.govt.nz if you have a great story to share.
Take a look at the kind of stories we have worked to profile in China:
Student success stories with relevance to China: Chinanews.com reported on a team of Auckland University students, including one Chinese national, which competed in an international robotics competition.

China-related education events held in New Zealand: People.com reported on the University of Auckland's seminar session promoting study opportunities in Qingdao. Xinhuanet.com highlighted Victoria University of Wellington's Confucius Institute sunrise ceremony to celebrate the 10th anniversary of the establishment of the global network of Confucius Institutes. China Daily reported on a Chinese Week which promoted Chinese language and culture through television, libraries and apps.

Institutional developments of relevance to China: Waikato University launched a scholarship scheme for international students from Asia, including China. Coverage was secured in a range of media, including Sohu.com. The article highlighted the $1 million Excellence Scholarships for nearly 200 students and noted Waikato's strengths in education, economics, law and information technology.

Scientists and researchers visiting China who can be interviewed about New Zealand's strengths in their fields: Sir Peter Gluckman, the Prime Minister's Chief Science Advisor, visited China in September. Media interviews arranged by ENZ resulted in coverage highlighting New Zealand's education strengths in science and research, including in agriculture, medicine and nanotechnology.

Regional cluster visits: The Shanghai Morning Post reported on Study Dunedin and Education Southland's joint education fair in Shanghai. ENZ also helped secure coverage for Dunedin education institutions during the Dunedin Mayoral Delegation to Shanghai, resulting in a total of 74 media reports across TV, online and print media – equating to NZ$564,677 in PR value.

Collaboration with Chinese counterparts: Chengdu Evening Post reported on ties being developed by New Zealand schools with Chinese counterparts. The Daily Evening News reported on the 2014 Sino-New Zealand Modern Vocational Education Development Forum held in Tianjin.

Visiting scholars and institution leaders: Beijing Business Today interviewed Caroline Daley, Dean of Graduate Studies at the University of Auckland, highlighting the university's job seeker support for international students.