Event season in Viet Nam
More than 40 New Zealand institutions, including schools, ITPs and PTEs, and all eight universities attended a series of education fairs, agent seminars and alumni networking events in Hanoi and Ho Chi Minh City this month.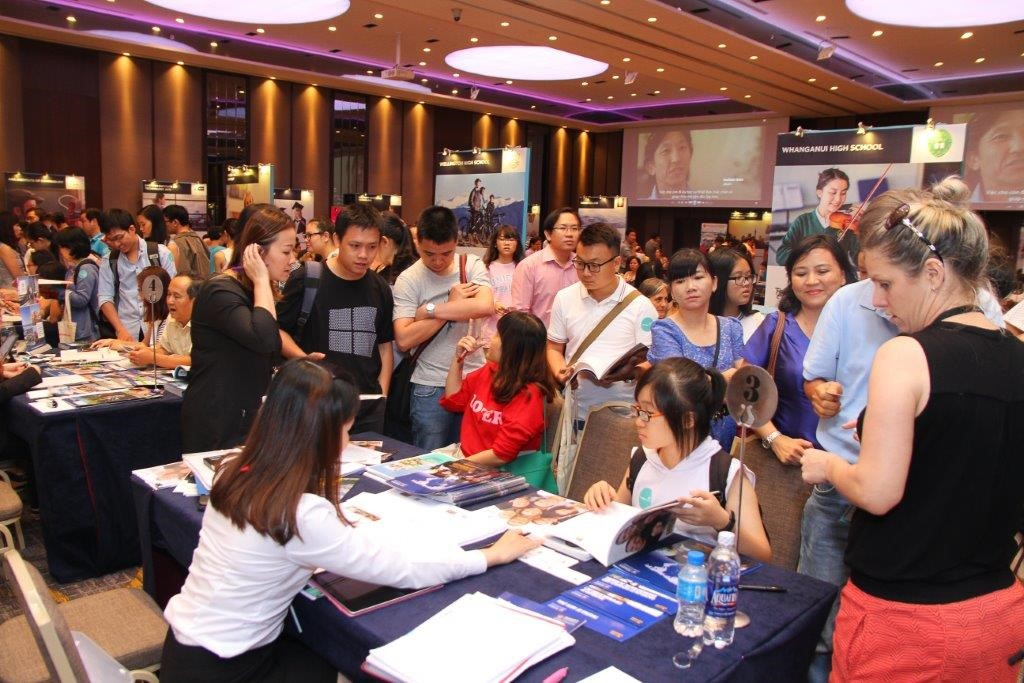 Two alumni networking events had more than 200 registrations, as well as the participation of Immigration New Zealand (INZ) and New Zealand Aid, who answered queries from students and parents about studying in New Zealand.
Several seminars were held alongside the fairs to discuss student visas, the New Zealand curriculum and NCEA, and the NZ ASEAN Scholar Awards. The seminars drew significant interest with the rooms full for most of the day.
Ben Burrowes, ENZ's Regional Communications & Strategic Relations Manager for South East Asia, said it was fantastic to see so much interest in the seminars.
"It was clear that the students and parents had already conducted their own research and had come prepared with specific questions on programmes of study and life as a student in New Zealand."
The Hanoi agent seminar, held on 17 March, included student visa updates from INZ, followed by education agent training and "speed meetings" between local agents and New Zealand education providers.
The events were accompanied by a comprehensive public relations programme that resulted in good coverage in Vietnamese media. Some 15 local media members attended a media briefing in Ho Chi Minh City, seizing the opportunity to interview two Vietnamese alumni and Ben.
The ENZ team also conducted an online chat with vnexpress.net, a top online news website in Viet Nam with over one million views per month. During the two-hour live chat session, questions were put to panel members Ben, Chris Klaassen (Chair of SIEBA), Giang Nguyen (University of Waikato's SEA Regional Manager), and Lucy Nguyen (SIT's International Marketing Officer for Vietnam). They answered nearly 60 questions ranging from New Zealand's quality of education, the transferability of qualifications, the high school system and NCEA. After the live chat, the answers remained on the news site and were syndicated by many other online sources.
Ben said the number of questions put to the panel was a positive sign.
"A number of questions asked for comparisons between New Zealand and some of our stronger competitors – a further testament to the growing market awareness of New Zealand," he said.
Air New Zealand was among the events' partners, providing two sets of return tickets to New Zealand at the fairs.