21 November 2018 at 9:00 am
Prime Minister meets Kiwi students in Singapore
Prime Minister Jacinda Ardern highlighted the benefits of international education in Singapore last week where she met a group of Kiwi students currently studying in the region.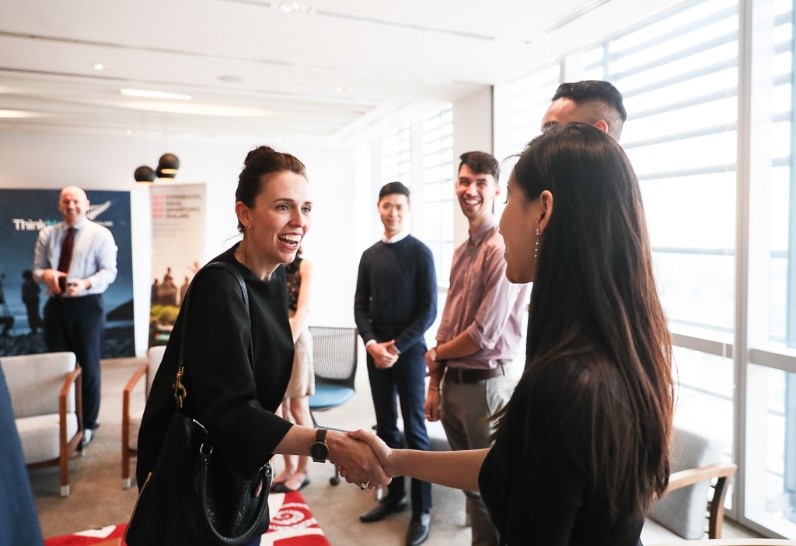 Last week the Prime Minister announced the 249 young New Zealanders who have been awarded prestigious Prime Minister's Scholarships for Asia (PMSA) and Latin America (PMSLA) as part of the August 2018/19 round.
She congratulated the new round of awardees in Singapore, where she met a group of 11 current PMSA recipients and reflected on the value of young Kiwis having international education experiences.  
The Singapore-based awardees at the event included Louis Martin (25) who is carrying out a four-month internship with Asia Internship Program (AIP), Nicolas Steyn (20) who is on a one semester exchange at the National University of Singapore, and Lucy Kenner (22) who is undertaking a 12-week legal internship at Providence Law Asia. 
"Ongoing academic relationships and new business opportunities are two things we are seeing result from the scholarship programme," Jacinda Arden said in the announcement release.
"Our awardees are welcomed and supported by diplomatic communities in New Zealand and offshore, which we also value."
John Laxon, Regional Director – South and South East Asia, Middle East, said that Friday's event during which the Prime Minister chatted and mingled with the group of Kiwi students showed how international education can be life changing.
"Our scholars gave great insights into how they have created lifelong connections through their PMSA experiences, which will enrich their lives and strengthen their careers," said John.
"The Prime Minister enjoyed the discussions, which brought back memories of her own exchange student experience at Arizona State University."
Applications for the next round of PMSA and PMSLA opens mid-January and must be submitted online by 30 March 2019. More information on the application process can be found here. Institutions are encouraged to contact ENZ to discuss potential group applications.
The PMSA recipients' names from the August 2018/19 round can be found here. The PMSLA recipients' names from the August 2018/19 round can be found here.