Engaging personally in Viet Nam
Since May 2022, when the Viet Nam government decided to drop all COVID-19 testing requirements for international arrivals, life seems much more like it used to pre-pandemic, with large national and regional events, crowded domestic transport, and vibrant city life.
People generally seem tired of online meetings and webinars, preferring to meet and attend events in person. In recognition of this trend, Education New Zealand Manapou ki te Ao (ENZ) has actively engaged with different stakeholders in recent months, to maintain our in-market promotion and explore new opportunities for New Zealand providers.
In late June, ENZ organised workshops to help connect recruitment representatives from New Zealand universities with selected counsellors from private and international schools in Ho Chi Minh City and Ha Noi. At the workshops, we asked about Vietnamese students' current attitudes towards a New Zealand education, discussed the opportunities and challenges for each New Zealand provider, and identified any topics they wanted to explore further.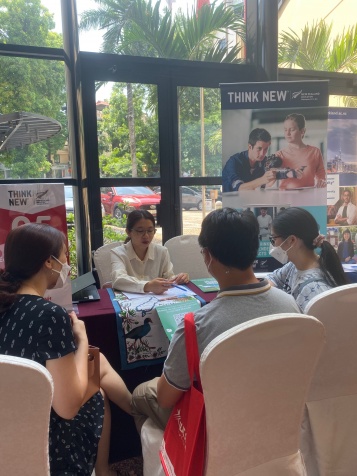 ENZ and in-market representatives of some New Zealand providers have also participated recently in commercial fairs, organised by key education agencies in Viet Nam. These fairs look and feel just like they did in the past, with multiple booths for institutions from various countries, and high numbers of students and parents coming to talk directly with recruitment staff.
As New Zealand reopens the border for international students, it is critical we communicate directly with students and partners that we welcome students coming to study here. We are looking forward to the Hanoi and Ho Chi Minh City - Agent Seminar and New Zealand Fair in late October.
- Van Banh, ENZ's market manager based in Ho Chi Minh City