15 December 2022 at 11:00 am
Japanese teachers experience New Zealand's regional schools
Eleven principals and international staff from Waseda University and its affiliated schools travelled to Manawatū and Hawke's Bay last month, ahead of a planned visit by 60 Waseda school students early next year.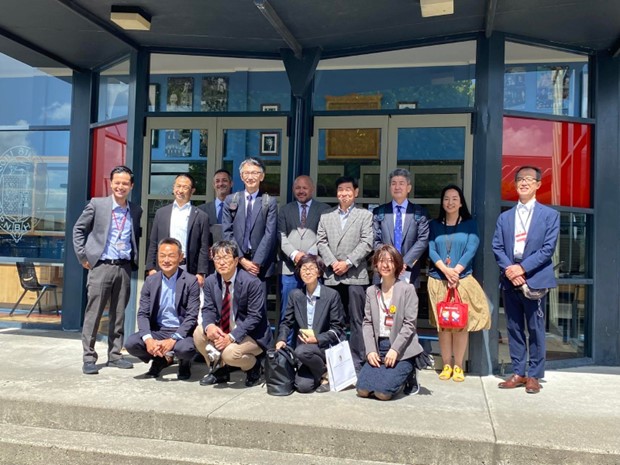 "Waseda University and its affiliated schools are longstanding and valued partners for us," says Misa Kitaoka, Director of Education in Japan for Education New Zealand Manapou ki te Ao (ENZ).
"It's exciting to see the strong regional focus they have chosen for their students' study in New Zealand in 2023 and hear about the planned growth of the programme."
Waseda University schools will be sending up to 60 students on a group programme to schools in Manawatū and Hawke's Bay for two weeks in March 2023. The two regions were selected to receive students after taking part in an Expression of Interest process. Close to 80 students have already applied to take part, and Waseda plans to increase the number of participants to 100 from 2024, and to increase the length of their visit in future years. 
ENZ hosted the familiarisation tour (famil) to Manawatū and Hawke's Bay from 21- 25 November 2022. Four Tokyo schools took part alongside Waseda University: Waseda University Senior High School, Waseda University Honjo Senior High School, Waseda Jitsugyo High School and Waseda Saga Junior and Senior High School. The famil was co-funded by ENZ and Air New Zealand, and Palmerston North City Council and Learning Hawkes Bay played a major role in helping to organise visits to 14 different education providers.
"Through the five-day famil, our regional and institutional partners demonstrated their strengths and uniqueness," says ENZ's Director Marketing and Strategies, Patrick Holden, who travelled with the delegation.
"Delegates commented on how welcome they felt and how impressed they were to see indigenous Māori language and customs being incorporated into the school curriculum.   The manaakitanga shown by the different institutions was well received, especially the pōwhiri."  
Misa Kitaoka stressed the importance of destination marketing with support from regional partners.
"While decision-making tends to be institution-led in the tertiary sector, decisions for the school sector are often led by the region or city. This famil was a great opportunity for us to showcase the regions first, followed by the education offerings available in the regions.
"Japanese school students, parents and educators are also interested in cultural experiences in New Zealand beyond education, including the opportunities to interact with local students and host families, and to embrace New Zealand's cultural values of diversity and inclusion.
"While video-calling offers many benefits and has been vital across the pandemic, bringing famils back into the country means our offshore stakeholders can experience first-hand what New Zealand has to offer. Regional involvement will play a key role in building long-term reciprocal relationships for Aotearoa." 
For more on ENZ's education partnership with Waseda University and its affiliated schools, please click here.  
For more on the value of short-term programmes for international students in New Zealand and the potential benefits to New Zealand and the educator sector, check out this recent Spinoff article: How educational exchange fosters more than just learning | The Spinoff