18 December 2020 at 9:00 am
New Zealand and Vietnam celebrate 45 years of bilateral ties
To mark the 45th anniversary of the establishment of diplomatic ties between Vietnam and New Zealand, Education New Zealand, the New Zealand Embassy in Vietnam and the New Zealand Consulate General honoured six Vietnamese alumni in the 2020 New Zealand Outstanding Alumni Awards.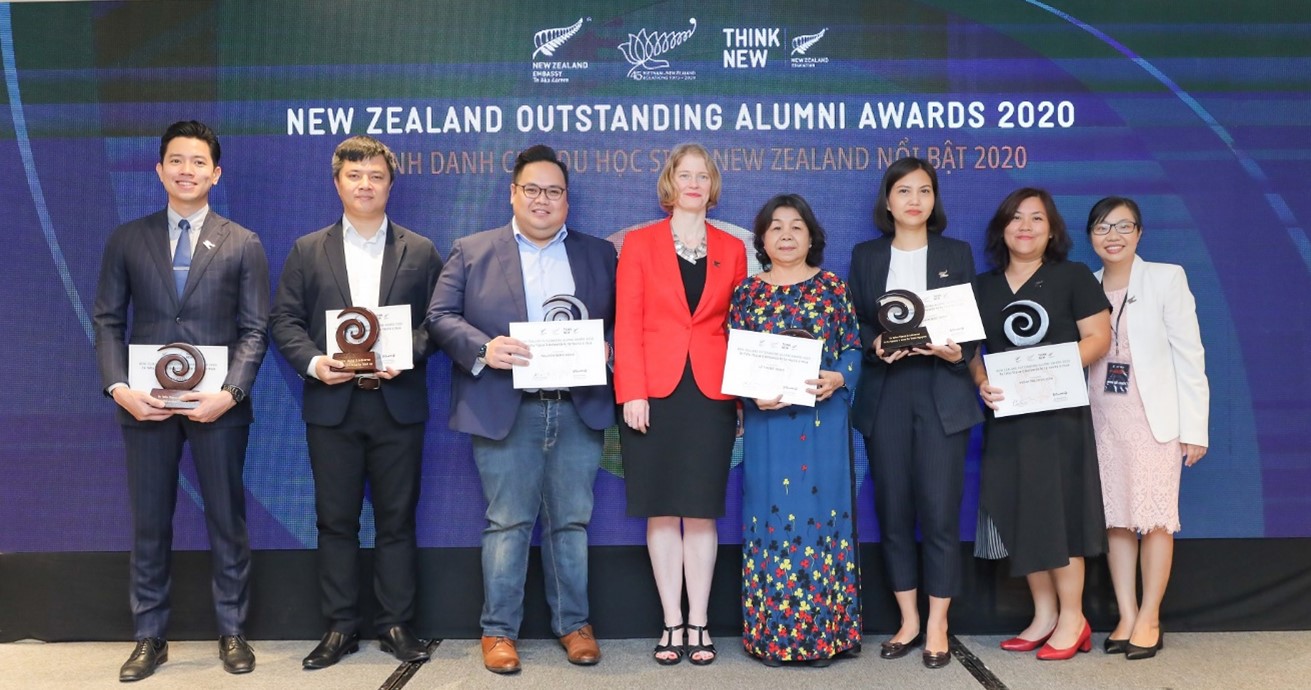 The alumni were: Le Thi My Hanh, Country Representative at Global Green Growth Institute (GGGI); Nguyen Bao Tram – Vice President, User Growth Strategy and Planning at Lazada Vietnam; Trinh Thi Thuy Lien – PhD Candidate in Education and Higher Education, College of Education and Higher Education Development Center at the University of Otago; Le Ba An Binh – Managing Director at Adtima, a division of VNG; Nguyen Minh Dung (Daniel Nguyen) – Executive Chef at Mia Saigon Luxury Boutique Hotel; Founder of Coco Consulting Limited in Auckland; and Nguyen Quang Dat – Captain (Airbus A320), Pacific Airlines.
ENZ Regional Manager – East Asia, Ben Burrowes said, "We are extremely proud to recognise each individual awardee today and to celebrate the role that a New Zealand education has played in both their personal and professional lives. It is inspiring to learn what they've achieved since graduating in New Zealand and to hear real-life examples of New Zealand's unique approach to learning."
New Zealand Ambassador to Vietnam, Wendy Matthews, also spoke at the awards ceremony.
"The quality of New Zealand education can be seen in the quality of our graduates, and these alumni are examples of the globally engaged students New Zealand aims to produce," she said.
"New Zealand is committed to helping build the future leaders of Vietnam. We are proud of our alumni and the New Zealand alumni community, who have come to be affectionately known as the 'Kiwi mafia'. Alumni play an integral role in the New Zealand-Vietnam bilateral relationship, which celebrated its 45th anniversary this year."
Vietnam and New Zealand first established diplomatic ties in 1975. The countries' education relationship stretches back even further to the 1960s, with Vietnamese students having come to New Zealand since the first days of the Colombo Plan.
Today, Vietnam remains an important market for New Zealand's international education sector. Vietnamese students make up the seventh biggest cohort from a single country. In 2019, 3,040 Vietnamese students studied at New Zealand institutions, up 10 percent from the year before. Of the 3,040 students, 35 percent studied in the universities, followed by schools (28 percent). The number of Vietnamese students studied in schools and universities increased 29 percent and 9 percent respectively from 2018 to 2019.