SIEBA launches Schools Global Citizenship Pilot Programme
To support global citizenship within New Zealand schools, SIEBA has recently launched a pilot programme that is co-funded by Education New Zealand Manapou ki te Ao.
A network of 20 schools will take part, receiving professional advice and support to create, introduce and embed global citizenship strategies and initiatives across their schools.
SIEBA's recent report on international business recovery for schools highlighted global citizenship education as one of three key areas expected to underpin business recovery and the future of international education, both within New Zealand and globally. The other two areas are sustainability/climate action, and growth in school-to-university pathways.
Global citizenship programmes contribute to a better international student experience, build understanding and support for international education, and enrich the value proposition that schools offer both domestic and international students.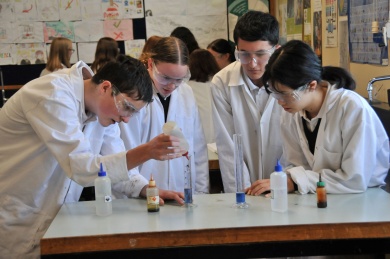 Image above: Japanese and Kiwi students discovering science together at Awatapu College in Palmerston North
"Global citizenship education (GCED) has the potential to bring local and international students together through a focus on global issues, and in development of global competencies. International students and parents are increasingly looking for schools that can demonstrably deliver GCED within the educational experience," the report says.
The pilot programme will be delivered in collaboration with the Centres of Asia-Pacific Excellence. The schools involved will draft Global Citizenship strategies linked to a range of programmes throughout the school, including learning content and teaching approaches, co-curricular programmes, professional learning and development, and student-led initiatives. They will examine how Te Tiriti o Waitangi and Te Ao Māori will underpin their global citizenship strategies. Schools will start local, this will be a multi-year journey, and the result will look different in every school.
Developing global citizens is also one of the overarching goals of the New Zealand International Education Strategy.