16 November 2023 at 11:00 am
Strong interest in NZ from Filipino students at the Te Pūkenga Agent Workshop and NZ Study Workshop 2023
In late October, representatives from Te Pūkenga - New Zealand Institute of Skills and Technology joined Education New Zealand Manapou ki te Ao and Golden Summit International Consultancy in hosting an Agent Workshop and the NZ Study Workshop 2023 in Manila. These were the first in-person events held since Covid-19 and marked a welcome return to face-to-face student recruitment activities in the Philippines.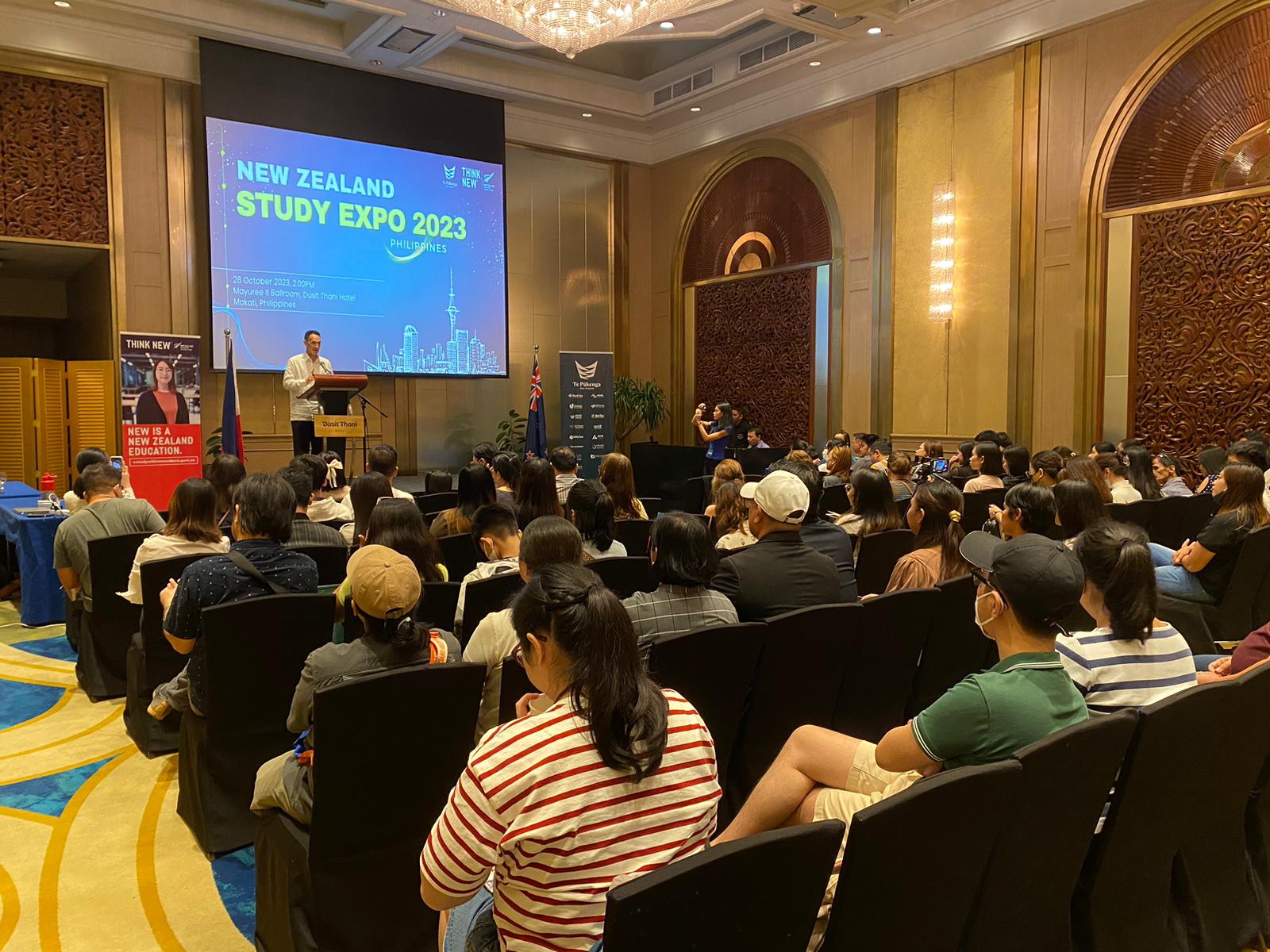 55 education agents representing 27 agencies from across the Philippines attended the one-day workshop on 27 October. The workshop provided a valuable opportunity for the four Te Pūkenga representatives, including Bipul Das, Kerry Clarke, Prashanth Nallur Puttaswamy and Richard Cao, to share their most recent updates and developments, including information on Te Pūkenga's vocational education offerings.
ENZ's Market Manager – Philippines & Thailand, Chortip Pramoolpol, supplied an update on ENZ's activities and showcased the array of tools and resources available to empower education agents in promoting New Zealand as a study destination. Joining the workshop remotely were key figures from Immigration New Zealand. Celia Coombes, Manager of International Education, Dolores Hyde, Senior Advisor for International Education, and Philippa Lee, Immigration Officer, Visa Operations, delivered a comprehensive briefing on student visa applications and post-study work rights. If any education agents would like a copy of the slides delivered by ENZ, they are available on IntelliLab here - ENZ Philippines.
Bipul Das from Te Pūkenga's International Team said that it was incredibly valuable to be able to meet face to face with education agents and prospective students in the Philippines.
"It was wonderful to see the education agencies are excited to promote New Zealand as the preferred study destination for vocational education and we are grateful for the support from ENZ, our Education Agents and INZ on the work being done in the Philippines market. We will continue to focus on growing our international student population from the Philippines, " said Bipul.
Following on from the workshop, ENZ and Te Pūkenga welcomed over 170 visitors to the NZ Study Expo 2023. The event provided a unique platform for attendees to explore the breadth of opportunities in New Zealand including specific courses, scholarships, and post-study opportunities and discuss these personally with the NZ representatives on-hand.
New Zealand Ambassador His Excellency Peter Kell presided the event and shared his remarks, encouraging Filipinos and their families, to choose New Zealand as a destination to continue their education journey.
Ambassador Kell told the audience "This event is more than just a fair; it is a bridge that connects aspirations with opportunities. It is a platform for our Filipino students to explore and embrace new horizons, to acquire skills and knowledge that will empower you to become leaders in your chosen fields.
"New Zealand's education system is often highly regarded and ranked in the world for preparing students for the future. Our education providers often have strong connections to industry and the business community. This facilitates internships, work placements, and real-world experiences for students, preparing them for the workforce,' he added.
ENZ Market Manager – Philippines & Thailand, Chortip Pramoolpol, was excited to have had the opportunity to speak face to face with interested students and their families following the pandemic.
"There is certainly a lot to be said for being able to explain in-person to prospective students and their families, why they must consider New Zealand as a destination for future study and we were so pleased to see such genuine interest.
These events generated dozens of leads which has helped drive a significant increase in in visits and enquiries from Filipino students to the Study with New Zealand website," added Chortip.
If any education providers or agents would like any additional information on marketing to students in the Philippines, please contact Chortip Pramoolpol – chortip.pramoolpol@enz.govt.nz