27 September 2017 at 9:00 am
Taste of New Zealand in the heart of Seville
Europe's largest international education conference, held in Spain this month, was a great opportunity to emphasise New Zealand's importance as a global player.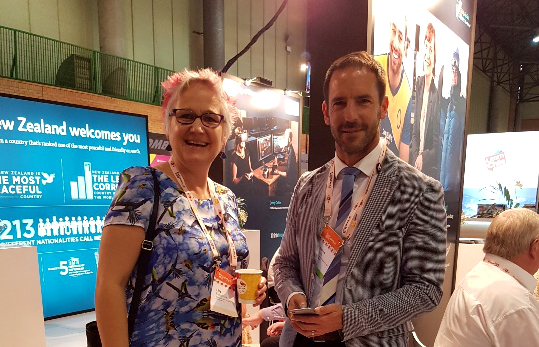 The European Association for International Education (EAIE) 2017 Conference and Exhibition in Seville attracted 6000 delegates from 95 countries, and is Europe's largest annual event for the international education sector.
Seven New Zealand universities and four ITPs represented the sector this year.
ENZ's Regional Director, Americas and Europe, Lisa Futschek, said EAIE was a valuable platform for New Zealand education providers to meet longstanding and new European and other partners.
"It was great to have many conference visitors comment that the New Zealand pavilion – yet again – was the most spectacular and creative stand.
"Our strong ongoing involvement in EAIE 2017 emphasised New Zealand's importance as a global player in the international education sector.
"The interest in establishing academic collaborations with New Zealand, and our numerous engagements with international business partners demonstrate a huge growth potential for the Europe market."
"As well as networking opportunities, the conference provided insights into key market developments in Europe and future trends in education."
ENZ organised a special Kiwi networking function that offered about 100 guests a taste of New Zealand in the heart of Seville, Lisa said.
Among the evening's highlights was a musical performance by Tamar, a New Zealand-born musician with Maori (Ngāi Tahu), Polynesian and European roots, who lives in Spain.
"She performed a personal, jazz-style interpretation of a collection of Māori songs composed by Māori artists from various iwi around New Zealand, which was beautiful."
The 30th annual EAIE 2018 conference will take place 11–14 September 2018 in Geneva, Switzerland, with a theme of 'facing outward'.