Virtual events around the world
Due to ongoing travel restrictions around the world, ENZ's in-market teams have been supporting NZ institutions at virtual fairs and events – all from the safety of their home offices.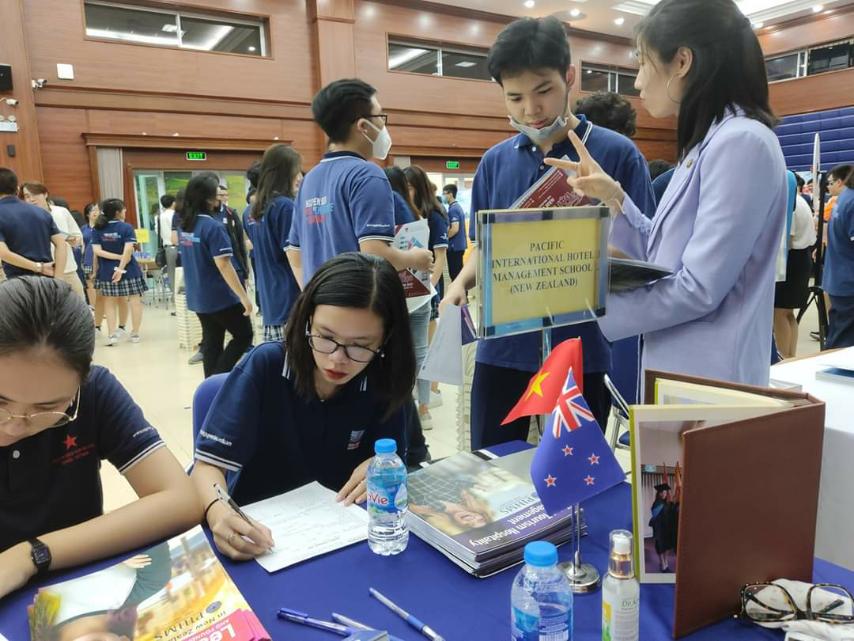 Viet Nam: Career fair at Nguyen Sieu School (NSS)
Representatives from eight New Zealand providers attended a career fair at Hanoi's Nguyen Sieu School (NSS) last month.
With no cases of community-transmitted COVID-19 for the past six weeks, Viet Nam has started to return to normal life. Schools have reopened just ahead of the end of the academic year.
Usually, the NSS Career Fair only allows in-person representatives from foreign institutions. However, thanks to ENZ's strong relationship with the school, our institutions were represented by proxy – either an education agent or alumnus. A representative from the institution was also permitted to join via video link.
As a result, New Zealand's presence was well ahead of our competitors like Canada (with two institutions), the UK (also two), or Australia (three).
ENZ Viet Nam Market Manager Van Banh says this is a great example of how key in-market relationships will be critical as international education looks to conduct usual activity online.
"This year's NSS Career Fair was an exciting example of how we can incorporate digital technology into our in-person events," she says.
North America: NAFSA eShowcase
For the first time ever, the world's biggest B2B international education conference was held entirely online.
More than 9,000 international educators from over 100 countries were expected to attend the conference in St. Louis, Missouri over 25-29 May before COVID-19 forced organisers to take it to the digital world. In the end, over 2,000 attended the eShowcase.
Participants were able to visit ENZ's virtual booth and engage either through chat or live video conversations at designated times.
New Zealand universities and ITPs had dedicated times to host a 'Virtual Showcase', which is a mechanism by which NAFSA exhibitors presented, met or collaborated with attendees via a dedicated Zoom session.
"The process of moving the largest in-person B2B international education conference in the world online has been a big learning curve, not only for ENZ and the individual booths and attendees, but for NAFSA themselves," ENZ Director of Engagement – North America, DuBois Jennings, says.
"With no live, conference-wide chatroom or method to see a list of conference participants it felt isolating at time on the booth, which is very different from the normal, in-person NAFSA conference. However, it has been a valuable learning experience as the international education industry looks for new ways to connect virtually."
China: China Education Expo (CEE)
In late May, representatives from ENZ, all eight of New Zealand's universities and the NZIST were offered a unique opportunity to engage directly with students from China and their parents.
The annual China Education Expo (CEE) is one of the biggest events in the Chinese international education calendar. But ENZ Market Development Manager, Jane Liu, says this year's engagement through the virtual platform is greater than they would usually expect.
"Although ENZ has worked with the CEE for years, this is the first time we've been collaborated with them online. We can see this being useful to New Zealand institutions even after COVID-19."
Each university provided a one-hour presentation sharing their programmes and how they can work with interested students once COVID-19 precautions have been lifted. The NZIST representative also gave a detailed introduction to the reforms the ITP sector has recently gone through.
The webinars have garnered a combined total of 1000 views, and have been recorded and hosted on WeChat so that students and parents can watch them at their leisure.