2017 NAFSA conference is fast approaching
ENZ is a platinum sponsor of the 2017 NAFSA Annual Conference and Expo, and has planned exciting projects to raise awareness of New Zealand as a high quality, modern education destination.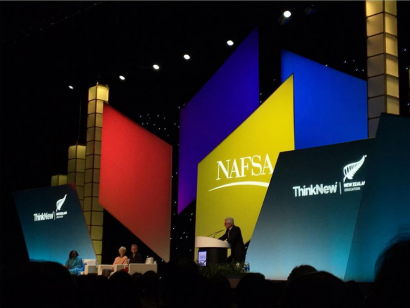 NAFSA is the largest international education conference in the world. Approximately 11,000 delegates attended last year, with 40 percent coming from 110 countries outside the US. 
This year's event will be in Los Angeles from 28 May to 2 June 2017. The theme is "Expanding Community, Strengthening Connections", and is expected to be one of the largest in NAFSA history.
ENZ's platinum sponsorship covers the opening plenary where Sir Richard Taylor will speak on behalf of New Zealand education institutions. The opening plenary will have an estimated attendance of 5,500 delegates. 
ENZ's Director of Student Engagement, Kaylee Butters, says the US market has a strong awareness of New Zealand as a tourism destination but not so much as a high quality education destination. 
"To help achieve this, we will focus on telling New Zealand's innovation and creativity story by highlighting real student projects which give meaning to our brand message, 'new ideas grow better here'."
There will be a number of other New Zealand-focused activities. ENZ is sponsoring the second annual NAFSA International Film Festival, screening the Disney film Pete's Dragon, which was filmed in New Zealand, as well as two short films.
ENZ will host a New Zealand reception during the conference, providing a key opportunity for New Zealand education institutions to provide hospitality with a distinct 'kiwi flavour' to valued partners and clients.
All eight of New Zealand's universities and four institutes of technology and polytechnics will attend and exhibit at the New Zealand booth in the expo hall. 
ENZ will host a session with New Zealand attendees including Immigration New Zealand, Go Overseas and the Institute of International Education providing market updates.