Education Products & Services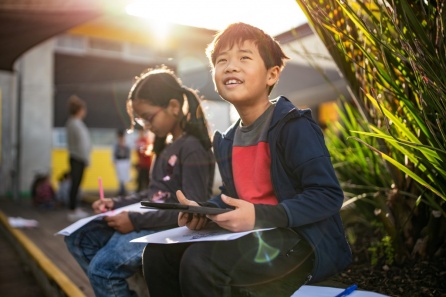 "New Zealand's education products and services sector is an exciting place to be.
At the cutting edge of technology and global education best practice, the sector offers a powerful 'first contact' for students, parents, lifelong learners, and educators.
Their unique interactive learning tools and education sector resources, along with respect for diversity and indigenous cultures, define the education experience of New Zealand, and provide the perfect incubator for a path of lifelong learning.
We are proud to work with the people and organisations in this thriving community."
Grant McPherson
Chief Executive, Education New Zealand Manapou ki te Ao
Overview
Education products and services (EPS) companies are an important part of Aotearoa New Zealand's international education industry, supporting learners and education at all ages and levels in New Zealand and around the world.
More than ever before, EPS companies are supporting and informing the way education is consumed around the world. Students benefit from more individualised digital learning content, while education systems benefit from more dynamic, fit for purpose education tools and services specifically designed and aligned to meet curriculum requirements.
With the ability to develop 'weightless technology-based resources and tools', EPS can now have a low environmental impact. Learning and education support need not be 'place-based' and the ability to access learning can now be from anywhere, anytime. This in turn supports a more equitable education system, one that can develop confident, well equipped digital citizens around the world.
About the EPS sector
The EPS sector in New Zealand includes education publishers, and education technology (EdTech) companies.
Key capabilities include:
Platforms for administration, student management, content management and learning management within the education sector

Digital learning content and services used by learners, education providers and organisations connected to education and learning

Consultants and advisors with specialist EdTech and educational publishing domain knowledge that support the education sector with expertise on product design, learning design or organisational development

Digital and print designed and developed curriculum aligned tools from ECE to postgraduate study and lifelong learning.
Education publishers
New Zealand's education publishers have a proud record of innovation and forward thinking. They are pioneers in early childhood education, reading recovery, big book shared reading, and in the revitalisation of New Zealand's indigenous language and culture. They have also been early adopters of digital formats and technologies.
They have reached learners and educators in 60 countries, in some cases for more than 40 years. They are also major providers of literacy materials and resources to Australia, the United States, the United Kingdom, China and others.
The Publishers Association of New Zealand Te Rau o Tākupa (PANZ) represents 30+ education publishers. PANZ provides learning and development opportunities, professional advice, and national and international representation for its members.
To find out more about New Zealand's education publishers click here.
Education technology companies
From New Zealand to the world - it's a path many New Zealand EdTech companies have followed.
More than 90% of New Zealand EdTech businesses export across the globe. Principal markets are the United States and Australia which account for 50% of exports, followed by Asia and Europe which account for another 30%. The remaining markets span the Middle East, Africa, and Latin America.
Established in 2017, the Education Technology Association of New Zealand (EdTechNZ) connects, supports and promotes EdTech companies to advance the sector's ambitions domestically and for export.
A range of EdTech platforms and technologies – from immersive reality platforms (AR, VR, MR) to artificial intelligence (AI) and more – can be found in a number of education categories and tools including:
Knowledge and content tools

Education management systems

Delivery models

Experiencing learning tools

Learning support platforms

Assessment and verification tools

Workforce skills and talent training and management.
To find out more about New Zealand's EdTech community ecosystem click here.
Resources and support for EPS companies
ENZ's role
ENZ, in conjunction with NZ Inc agencies, seeks to support the sector's export aspirations.
At a policy development level this has included acknowledging the contribution and role of the EPS sector in government strategies and policies, such as the New Zealand International Education Strategy and the Recovery Plan for International Education.
Across the industry ENZ also partners with professional associations, PANZ and EdTech NZ, to undertake research and strategic initiatives, facilitating introductions and connections for EPS companies, including through the New Zealand government's offshore networks.
ENZ supports visibility and awareness raising activities of the EPS sector, promoting and marketing New Zealand education in global markets, and also sharing data and insights into global and emerging markets.
Recent ENZ initiatives
NZ Inc agencies
Other New Zealand government agencies may also offer help, advice, and support to the EPS sector at various times.
The Ministry of Foreign Affairs and Trade (MFAT) is the Government's lead advisor on foreign affairs and trade. It works to build a safe, more prosperous and more sustainable future for New Zealanders by forging strong international connections with diplomats, trade negotiators, analysts and advisors from other countries. The Ministry works with global organisations such as the United Nations, the Commonwealth, the World Trade Organisation (WTO) and the Organisation for Economic Cooperation and Development (OECD). At a regional level it works with APEC, ASEAN and the Pacific Islands Forum.
New Zealand Trade and Enterprise (NZTE) supports exporters to grow their businesses internationally.
You may be able to access the following NZTE services:
Subscribe to NZTE's

myNZTE

for up-to-date market insights, tools, and export guidance

New Zealand Story

supports exporters to tell their story to the world and offers

the

FernMark

Licence programme to the EPS exporter community

The New Zealand Tech and Innovation Story has a useful

toolkit

for digital education exporters.
For more information
If you are a New Zealand education publisher or EdTech company and want to learn more about how ENZ may be able to support you, we are here to help.
Please contact Alana Pellow in the ENZ Industry team.