10 February 2021 at 3:04 pm
Education New Zealand's Brand Protect our most successful brand campaigns to date
Our two latest campaigns have reached a combined total of 77 million people around the globe.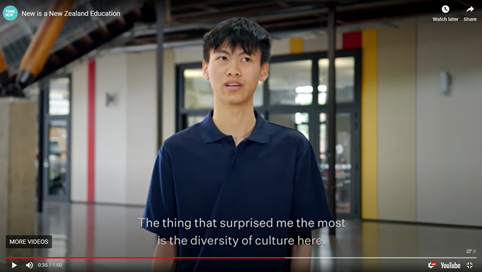 Both campaigns exceeded previous ENZ results and were well above industry standards. These results, alongside the brand tracking research, have affirmed that global appetite for a New Zealand education remains high.
"We have learnt that our message resonates globally with people who are now seeing New Zealand in a whole new light," ENZ Director Brand, Clayton Foster, says.
The second brand protect campaign – also known as Brand Protect 2.0 – ran from November to December 2020. It targeted the UK, Vietnam and Indonesia, and utilised the same video as the first campaign.
Brand Protect 2.0 reached 47 million people and achieved a high view through rate of 33.79 percent – or one in three viewers watched the video to a meaningful extent. The overall engagement rate was also high at 29.42 percent.
The first global brand campaign ran from July to August 2020. For a modest investment of $190,000 in Germany, Indonesia and Brazil, this campaign reached more than 30 million people across the three key markets and achieved an engagement rate of 22.35 percent. One in four people who came across this campaign watched the video to a meaningful extent.
The Brand Protect campaigns are a key part of the Recovery Plan's third workstream, 'Transforming to a more sustainable future state'. They leverage the positive global sentiment towards New Zealand to keep the dream of a New Zealand education alive in-market.