21 December 2021 at 2:13 pm
ENZ introduces tā moko to young people in Japan
Education New Zealand has teamed up with digital media platform BuzzFeed to introduce tā moko to young people in Japan.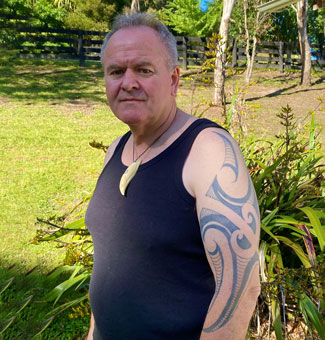 Tattoos are increasingly popular among younger Japanese, so ENZ worked with BuzzFeed Japan to tell the story of the cultural importance of the traditional Māori form of the art.
The BuzzFeed story featured ENZ Manapou ki te Ao Chief Advisor Māori, Karl Wixon of Ngāi Tahu, explaining tā moko's meaning for Māori as an expression of identity.
"There are nearly 100 tribes in New Zealand. Tattoos symbolise your own tribe or identity to express your roots," Mr Wixon told Buzzfeed.
"Tā moko design represents your tribal roots but can express your position in society. For instance, if you are a healer in your tribe, if you are a leader in society, that can be incorporated into the design of tā moko."
Mr Wixon said tā moko can also reflect things like the natural world around you and the ancestral stories you connect with.
His tā moko is inspired by the tītī (sooty shearwater). The bird makes its home on small islands surrounding Rakiura (Stewart Island), south of Te Waipounamu (the South Island). It is an important food source for some Ngāi Tahu and his family has been involved in the customary hunting practice for generations.
Mr Wixon explained that while modern tattoos are done with ink, tā moko artists use natural materials including dyes made from the soils of their tribal lands, and carve them on the skin using tools made of wood and bone.
"Tā moko is a design that's created through kōrero (conversation). Even if you are not Māori, if you go through that process, some can take on tā moko. In fact, many tā moko artists are open to collaborating with cultures other than Māori," he said.
BuzzFeed Japan attracts more than 35 million unique visitors a month and has a strong following among younger people. It is an arm of the global BuzzFeed media platform, which has more than 200 million users and operates in 11 countries.
The BuzzFeed article is the latest in a series of initiatives by ENZ in Japan. In another, ENZ and the Hokkaido Board of Education have signed a partnership deal to promote cultural exchange through the shared interests of Hokkaido locals and New Zealanders, which include indigenous culture, primary industries and rugby.
ENZ's Director of Education in Japan, Misa Kitaoka, says it is important to recognise the links between the two cultures.
"I look forward to introducing some other aspects of Māori culture that will resonate with young people in Japan and promoting cultural exchanges between Māori and the Ainu people of Japan," she says.
According to a survey by the Asia New Zealand Foundation Te Whītau Tūhono, Japan is most often identified as the country that shares views and values that are culturally similar to those of Māori. The shared aspects of culture included valuing kaumatua (elders), mahinga kai (food customs), manaakitanga (hosting guests) and whanaungatanga (valuing relationships).