27 October 2021 at 11:52 am
From the CE: Telling the story of international education
Introducing a toolkit to help you find and tell great stories in your communities about the contributions you and your international students are making to Aotearoa New Zealand.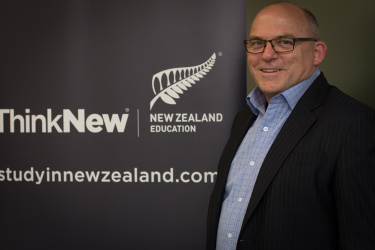 Kia ora koutou,
I'm pleased to return with another update and much has changed in recent months. The Delta variant has severely impacted several regions across the country, emphasising the importance of the COVID-19 vaccine rollout. Despite the challenges we face today, I believe the international education sector will remain a vital part of the future of Aotearoa New Zealand. We have many positive stories to tell.
Many of us are aware of the broad social, cultural, and economic benefits of international education. However, research shows there is limited public awareness of these benefits. We need more New Zealanders to speak up publicly in support of international education.
To help us carry this crucial message to all New Zealanders, I am very proud to release Communicating the benefits of international education – a toolkit. This new resource from Education New Zealand is designed to help you find and tell your own stories, in your communities, about the valuable contributions you and your international students are making.
You'll find the toolkit on the ENZ Brand Lab. There is a story framework with eight content themes to help you develop your ideas, and advice on how to tell a clear, consistent story and to promote it on multiple communication channels.
At ENZ we are expanding our own efforts to explain what international education is, how much it matters to our students, our country and our global relationships, and where it is going under the Recovery Plan and the New Zealand International Education Strategy. We have partnered with the award-winning online magazine The Spinoff to publish a series of feature stories. You can read the first feature on the vital role of international education in keeping Aotearoa connected.
If recent months have shown us anything, it's that we are not out of the woods yet. The world has a way to go before we're ready to welcome each other with wide-open borders, and we are still fighting to retain and rebuild our sector.
I know that many of you are dealing with the loss of revenue, capability, capacity and global market share, as well as with the impact on your personal lives.
But your hard work is making a real difference, not only to your students and their distant families but also to the reputation of Aotearoa New Zealand as a place that cares about people, regardless of their origins or beliefs.
He rā ki tua – better times are coming.
Grant McPherson
Chief Executive, Education New Zealand Manapou ki te Ao