24 November 2022 at 10:30 am
Getting to know the Chinese government education agencies
Recent ENZ staff changes provided an opportunity to engage with three key government education agencies in China to identify future opportunities for collaboration.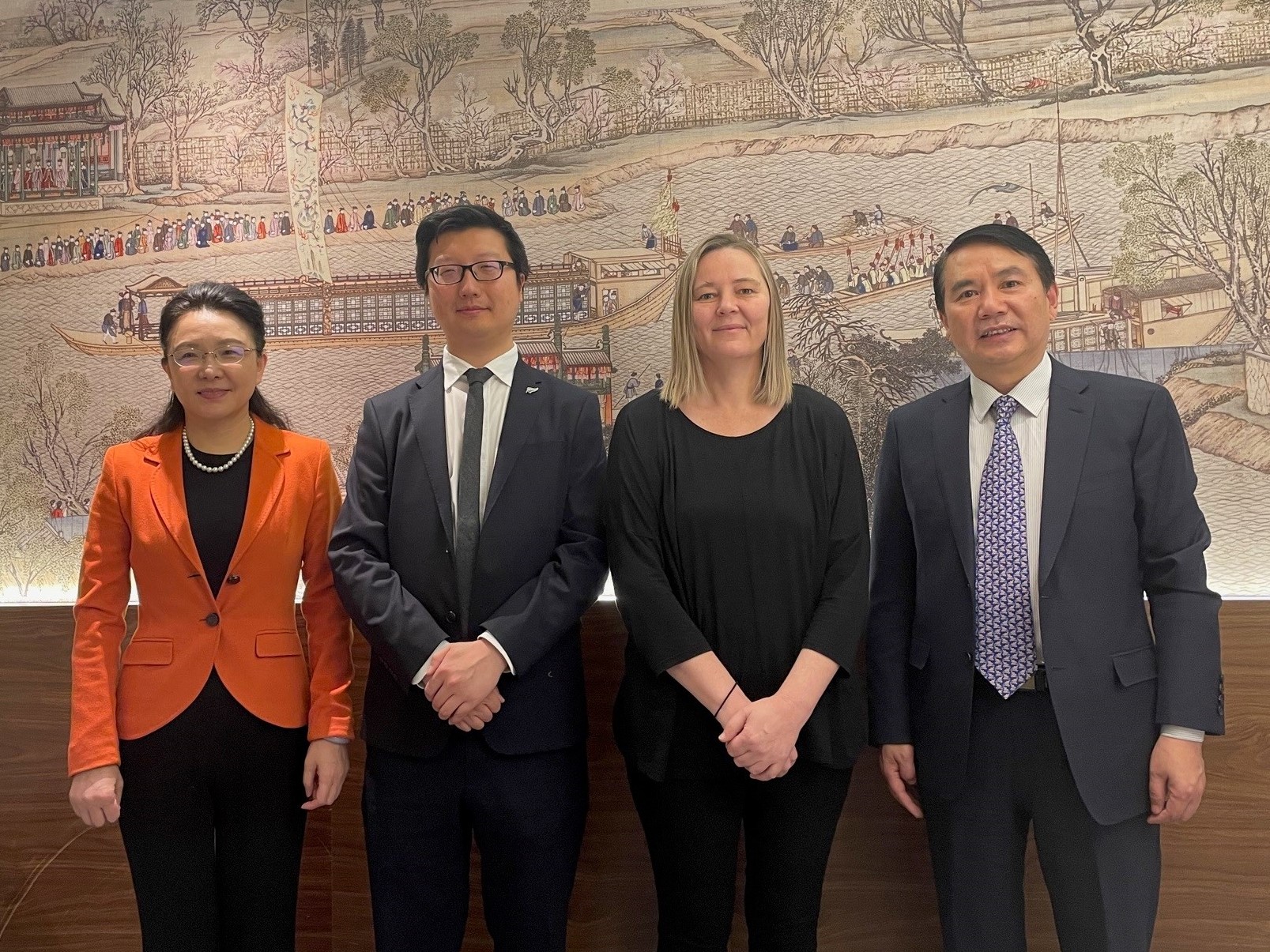 To introduce Michael Zhang, incoming Regional Director Greater China and to farewell outgoing director Miranda Herbert, the China team at Education New Zealand Manapou ki te Ao (ENZ) met with key education agencies in Beijing in October 2022.
"The meetings were an opportunity to reaffirm the long-term good relationship between New Zealand and Chinese government education agencies," Michael Zhang says.
"We were able to share updates about recent work, hear from each agency about their plans, and discuss possible opportunities for future collaboration with New Zealand institutions."
Ministry of Education, People's Republic of China (MoE)
The Ministry of Education is the key government body responsible for the development of China's education system, from early childhood education through to higher education. Key focus areas include the development of national strategies, policies and plans for education reform and development.
The Department of International Cooperation and Exchange coordinates the Ministry's engagement with foreign countries. The Department's key functions include:
Managing and guiding international education cooperation and exchanges

Drafting guidance and policies for the management of Chinese students studying abroad, international students studying in China, Chinese-foreign cooperative joint ventures and schools for foreign children

Supervising international cooperation and exchanges in the education sector

Guiding the work of education departments/divisions in Chinese embassies/consulates

Planning, coordinating and guiding the teaching of Chinese as a foreign language

Conducting educational cooperation and exchanges with the Hong Kong Special Administrative Region, the Macao Special Administrative Region and Taiwan Region of China.
New Zealand's Ambassador to China, Clare Fearnley, hosted a lunch on 27 October 2022, for China Ministry of Education Director-General Liu Jin and his team, in partnership with ENZ.
Both sides emphasised the value and warmth of the bilateral education relationship, underpinned by a long history of cooperation and several recent milestones despite the challenges of COVID.
There was strong interest to build on the positive ministerial engagement in August and the upcoming 10th Joint Working Group in late November, including hopes for high-level visits next year in both directions. Opportunities to engage with China MoE include high-level visits, and policy advice through ENZ's China team.
Chinese Service Centre for Scholarly Exchange (CSCSE)
Initially founded in 1989, CSCSE is a public organization under China Ministry of Education (MOE). CSCSE specialises in offering professional services for international scholarly exchanges, including Chinese students and scholars studying abroad, returnees from overseas, and international students and scholars coming to study in China.
CSCSE is also dedicated to promoting the internationalisation and capacity-building of Chinese higher education institutions, as well as improving education resources through international exchanges and collaboration.
CSCSE is the only official organisation that provides overseas credential evaluation and recognition services in China. The statement of comparability of overseas qualifications issued by CSCSE is widely recognised by Chinese employers and institutions from various sectors. CSCSE is an active member in the international education community, facilitates global talent mobility and improves international recognition of qualifications. CSCSE has long-term partnership with foreign qualifications authorities, including NZQA.
CSCSE manages and executes the China International Education Exhibition Tour (CIEET), which New Zealand has regularly attended in past years. CSCSE also organises the China Study Abroad Forum in March each year, in which ENZ is a regular speaker and participant.
Opportunities to engage with CSCSE include student recruitment fairs, study in China, international conferences, verification of foreign credentials, and transnational education programmes.
China Education Association for International Exchange (CEAIE)
CEAIE was founded in 1981 as a not-for-profit organisation to encourage international exchange and cooperation. It is a key organisation in facilitating foreign engagement with the Chinese education system.
Headquartered in Beijing, it has provincial associations for international exchange in 31 provinces, autonomous regions and municipalities in China, as well as local chapters in 16 major cities. It has relationships with more than 170 education organisations in more than 50 countries (including Universities New Zealand). CEAIE has been granted Special Consultative Status with the Economic and Social Council of the United Nations and has established official relations with UNESCO.
Every year in October, CEAIE organizes the China Annual Conference for International Education (CACIE), and the China Education Expo (CEE) both of which ENZ attends. New Zealand was designated Country of Honour at the 2015 conference and expo, which has provided remarkable marketing exposure for New Zealand education. Miranda Herbert from ENZ attended CACIE in October 2020 as a VIP guest and delivered a keynote speech, and in 2021 received a prestigious award recognising ENZ as an 'outstanding international partner'. Among its activities, CEAIE supports major people-to-people dialogue and exchange mechanisms with partner countries and provides quality assurance services for China-Foreign cooperative transnational education programmes.
Currently, there is strong collaboration between the New Zealand education sector and CEAIE, and their initiatives across various sectors. The university sector held the 5th NZ-China Higher Education Forum with the support of Universities New Zealand and CEAIE on 10 November 2022. CEAIE also expressed interest in collaborating with the New Zealand school sector around Sister School Programmes and exploring opportunities to facilitate Leadership and Capacity building. ENZ is following up with CEAIE on the leadership opportunities and plans to run an Expressions of Interest process once more details are available.
Opportunities to engage with CEAIE include student recruitment fairs, conferences, school cooperation, training, and Quality Assurance for joint programmes.
Positive meetings were also held with other agencies affiliated to China MoE, including the China Center for People-to-People International Exchange (CCIPE) and China Scholarship Council (CSC).
CCIPE highlighted the growing strength and success of our Early Childhood Education Symposium, while CSC emphasised their desire to see increased numbers of Chinese scholarship students choose New Zealand for their studies, particularly at PhD level. All eight New Zealand universities have signed MOUs with CSC. New Zealand students can also study in China on fully-funded scholarships, by applying directly through CSC. There are programmes in English and Chinese: CSC Scholarships | China Scholarship Council | Chinese Government Scholarships (chinesescholarshipcouncil.com)