International education adds value across New Zealand
Eight individual regional economic impact reports were released yesterday, each reflecting the enormous benefit that international education brings to New Zealand.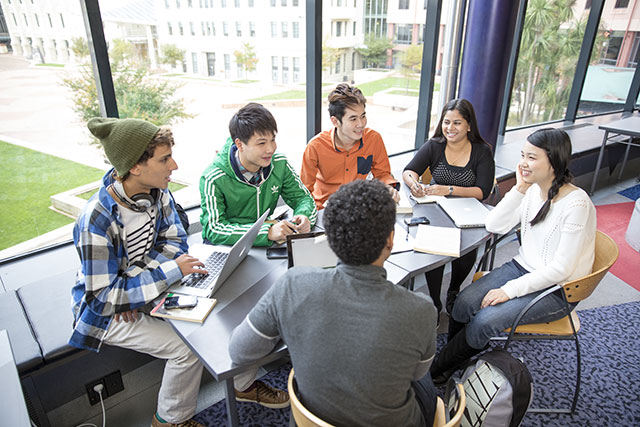 The reports follow theEconomic Impact of International Education 2015/16 released in November 2016. While that research looked at the New Zealand-wide picture, the latest reports, commissioned by ENZ, detail mean living costs and tuition fees, the number of jobs supported and contribution to GDP in specific regions – covering Northland, Bay of Plenty (including Tauranga and Rotorua), Taranaki, Manawatu-Whanganui, Hawke's Bay, Nelson Marlborough, Otago (including Dunedin and Queenstown) and Southland.
As well as economic gain, the social and cultural benefits of international education have also been felt across the country – among students, teachers, families, businesses and communities.
MetOcean Solutions, a Taranaki-based company specialising in oceanography and marine forecasting, has found enormous help in Mariana, an international student from Brazil. Dr Malene Felsing, MetOcean Solutions Science Communications, said Mariana's cultural insights have been a big help for the company, which exports to South America.
"Having Mariana on hand to tell us about the culture there, what kind of marketing people respond to, and how to foster relationships has been very helpful – and the fact that she speaks Portuguese is an added bonus," said Felsing.
In Whanganui, Rosie Austin, Director of International Students at Whanganui Collegiate School, said international students contribute to the wider community as well as within the school.
"As members of the school choir, youth orchestra and jazz band, our international students are out and about performing for the local community. Some play in the Whanganui Orchestra, one has been invited to play in the New Zealand Junior Symphony Orchestra, and another in the recent International Flute symposium in Christchurch."
In Tauranga, Janelle and Brendan Mark are one of countless host families who welcome international students into their home each year. The Marks are currently hosting Aki, a 16-year-old from Japan, who Janelle and Brendan's children, aged 8 and 12, particularly enjoy having in the home.
"Aki has already taught them some Japanese and how to make origami," said Janelle.
"She is a big part of our family and is going to be a hard one to let go of at the airport in December. Though I have no doubt we'll do it again next year. It is a huge responsibility taking care of someone else's child, but it's a wonderful and rewarding experience."