21 March 2023 at 10:30 am
International study experience in Brazil excites scholarship recipients
Prime Minister's Scholarship for Latin America recipients from the universities of Auckland and Waikato have had a unique opportunity for personal and academic growth as they gain perspective on history and indigenous rights in Brazil.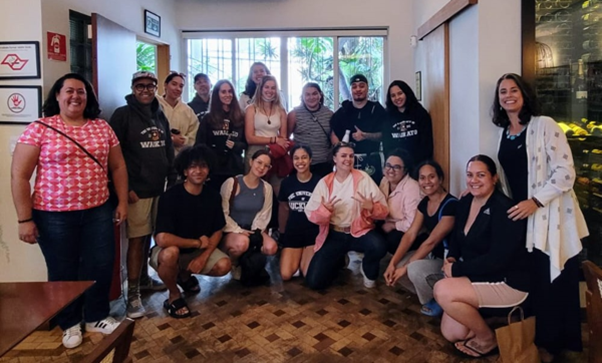 A group of 15 students from the universities of Auckland and Waikato have recently returned to New Zealand after a month's study in Brazil focusing on history and rights of indigenous people.
The students are group recipients of the Prime Minister's Scholarship for Latin America, which promotes international study opportunities for New Zealanders.
The group's itinerary included lectures and field trips around Brazil, including Brasília, São Paulo, the largest city in the southern hemisphere; and Ubatuba, a beautiful, coastal city that joins the Atlantic Forest to the ocean.
Students had the opportunity to meet local indigenous communities such as the Guarani and share their experiences and stories of Aotearoa New Zealand. They discovered the challenges and difficulties faced by indigenous people in Brazil, as well as the richness of their ways of life, music and handicrafts, as well as their connection to their spiritual world.
One of the highlights for the students was their visit to the recently opened Museum of Indigenous Cultures in São Paulo, which offered them a glimpse of the contemporary expression of Brazilian indigenous art, with diverse manifestations such as photography, hip-hop and art installations with social protest.
The ENZ team in Brazil closely followed the journey of the scholarship recipients across the country.
ENZ's Senior Market Development Manager – Brazil, Bruna de Natale said the students' visit was a wonderful opportunity that has further grown the rich, cultural, and academic connections between Brazil and New Zealand.
"We were pleased to see how deeply the students immersed themselves in learning about history and indigenous rights in Brazil and make connections with indigenous communities in the country. It's amazing to see the Prime Minister's Scholarships for Latin America enable this rich exchange of ideas and knowledge between New Zealand and Brazil," de Natale said.
The four-week visit ended in Brasília, where the students synthesised their learning in Brazil by presenting original projects that promote the connection between the indigenous cultures of Brazil and Aotearoa New Zealand.
The students' insights are also captured on video that can be viewed here on LinkedIn.