24 October 2018 at 9:00 am
Kiwi educational publishers promote NZ at Frankfurt fair
Nine New Zealand educational publishers were among the 7,100 exhibitors from over 100 countries attending the Frankfurt Book Fair this month – the largest event of its kind.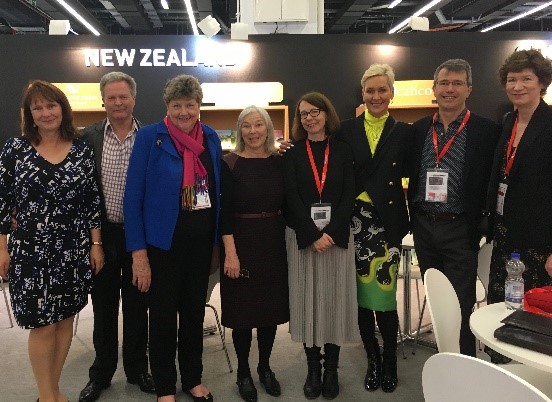 Running over five days in early October, the Frankfurt Book Fair saw publishers, agents and authors from all over the world converge to deal in rights and talk books, with many opportunities to forge new publishing relationships. 
This year, nine publishers from commercial and educational areas of New Zealand publishing shared the collective stand under the PANZ (Publishers Association of New Zealand) banner, with ENZ proudly sponsoring Dame Wendy Pye, Sunshine Publishing; Tracy Strudley, Global Education Systems Ltd; and Nicola Smith, Essential Resources. 
New Zealand publishers have steadily cemented a firm and respected place at the fair, riding high on the back of being Guest of Honour in 2012. 
PANZ President and Publisher at Oratia Media, Peter Dowling said the support from Creative New Zealand and Education New Zealand has helped them to promote New Zealand literature and educational publishing internationally.
"With help from these two agencies, we've worked hard to expand New Zealand's global presence over the last year, adding two new book fairs to our roster alongside Frankfurt — the Bologna Children's Book Fair in March, and the Guadalajara International Book Fair in November."
For many educational publishers, these fairs are key platforms to launch globally. To help educational publishers prepare for these opportunities PANZ, supported by ENZ, will host a free networking lunch and workshop in Auckland focussing on export rights. This will be a valuable opportunity for educational publishers interested in extending their international reach, and is open to non-PANZ Members.
If you're interested in the global opportunities for educational publishing, please connect with PANZ at admin@publishers.org.nz or with ENZ's Business Development Manager Annabel Robertson at Annabel.Robertson@enz.govt.nz