NZ strengthens education ties in North America
New Zealand's Minister of Education, Hon Jan Tinetti, travelled to Canada and the USA from 22 to 28 April and took part in a wide range of education engagements including the International Summit on the Teaching Profession 2023 in Washington D.C.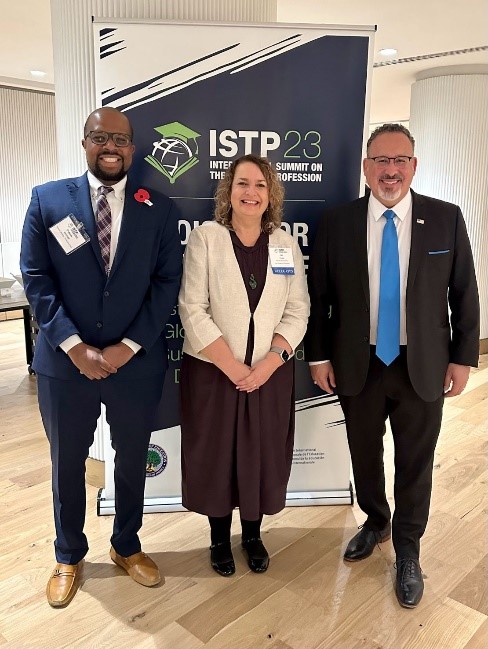 The visit was an opportunity to form relationships with international ministerial counterparts and key stakeholders, lead and participate in policy dialogue, and promote understanding of Aotearoa New Zealand's education system and reforms.
Minister Tinetti began her action-packed week of engagements in Ottawa, Canada where she hosted a round table lunch on international indigenous education at the New Zealand Official Residence. This was attended by Patty Hadju, Minister of Indigenous Services and representatives from Indigenous Services Canada, the Canadian Commission for UNESCO, the Canadian Ministry of Education, the Canadian Bureau of International Education, and Global Affairs Canada.
In between formal engagements, Minister Tinetti took time to visit York Street Public School where, as a former teacher and Principal, she enjoyed connecting with local students and teachers.
Following a busy few days in Canada, Minister Tinetti and her delegation moved on to Washington D.C for the International Summit on the Teaching Profession (ISTP). The ITSP conference brings together 22 countries to discuss how to strengthen the teaching profession and ensure all students have access to quality education.
ENZ's Director of Engagement, Americas, Middle East and Europe, Dubois Jennings said Minister Tinetti made it clear that New Zealand valued the potential opportunities for mutually beneficial collaboration, and her interest in developing these relationships.
"Minister Tinetti used her time at ISTP to make important connections with other countries, several senior US education officials and experts in specific areas of interest for New Zealand. Those interests include national policies around compulsory education, teacher training, professional development, higher education and vocational training" he said.
Whilst in Washington D.C, Minister Tinetti also met with China Vice Minister of Education, Chen Jie. This bilateral meeting between New Zealand and China adds to the list of engagements at the Ministerial and Officials level over the past few months adding value to the strong education relationship between our two countries.
Later in the week Minister Tinetti attended the ANZAC Dawn Service where she had the opportunity to meet with Australia's Minister for Education Jason Clare.