Rugby + English a winning combo
Twelve Japanese high school students with a passion for rugby and a drive to improve their English arrived in New Zealand on Friday 17 July for three weeks of intensive rugby coaching and English language learning in Hamilton.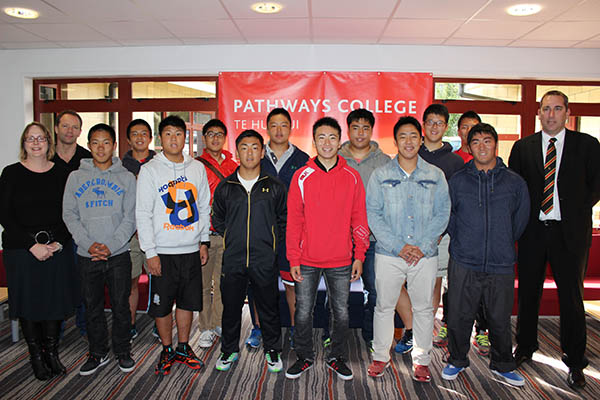 The boys are being hosted by Pathways College at Waikato University and the Waikato Rugby Union.
Hot on the heels of this group are 10 female high school rugby Sevens players who will arrive in Auckland on 6 August. This group is being hosted by New Zealand Language Centres and the Auckland Rugby Union, with the support of the Japanese Ministry of Sport and Education (MEXT) and the Japanese Rugby Union.
The visits are taking place under the 'Game On English' edu-sport programme jointly launched by Prime Minister John Key and Japanese Prime Minister Shinzo Abe during Mr Abe's visit to New Zealand in July 2014. They build on the success of the programme pilot that saw two teams visit Dunedin and Auckland respectively during the 2014 winter season.
The programme was developed by Education New Zealand (ENZ) in partnership with the Ministry of Foreign Affairs and Trade in response to the Japanese government's goal to improve the English language skills and increase the sporting capacity of Japan's young people in the lead up to Japan's hosting of the 2019 Rugby World Cup and 2020 Olympics.
The programme is now administered by English New Zealand, who have expanded it to include five provincial rugby union academies and selected premium English language providers based in locations throughout the country: Auckland, Hamilton, Mount Maunganui, Christchurch and Dunedin.
The programme includes daily English language classes and rugby training, and the students live with homestay families where they experience New Zealand life and culture and immersion in an English language speaking environment.
Ewen Mackenzie-Bowie, Chairman of English New Zealand points out that Game On English is about more than playing sport; "The programme provides a life-changing experience for young people that builds self-confidence, leadership and teamwork and helps them develop the necessary skills to reach their sporting and learning potential."
With financial support from ENZ, English New Zealand has appointed sports management company Essentially Group as the Game On English programme co-ordinator in Japan. Essentially Group's role is to promote the programme to interested parties in Japan and co-ordinate activity with the providers in New Zealand.
The Game On English programme is being expanded into other sports where New Zealand can provide international students a world class experience. In early 2015 a successful rowing pilot was developed between Otago University and the Otago University Rowing club who hosted four athletes and a coach from Kyoto University.
If you are interested in knowing more about the programme, please contact admin@englishnewzealand.co.nz