22 September 2022 at 10:30 am
Showcasing New Zealand education at EAIE 2022
At the first in-person European Association for International Education (EAIE) conference since 2019, representatives from New Zealand's eight universities, Te Pūkenga, and Education New Zealand Manapou ki te Ao (ENZ) all promoted the message that we are open to international students.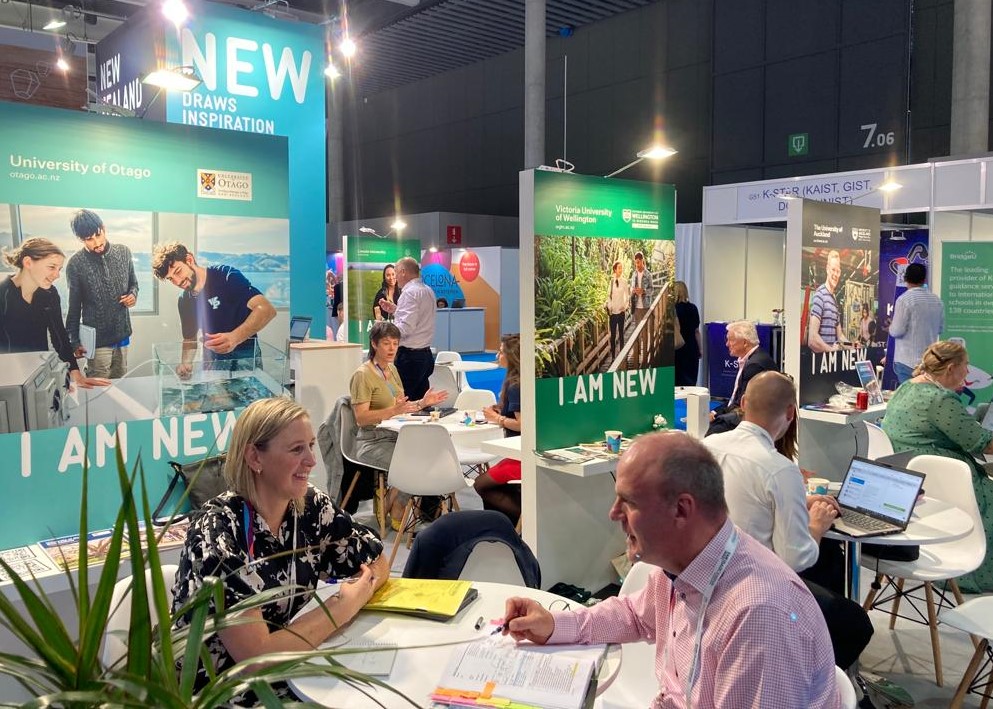 Held from 13-16 September in Barcelona, Spain, the 32nd Annual EAIE Conference and Exhibition attracted more than 200 exhibitors and 6,300 participants for a packed programme of sessions, networking events and plenaries. This was an ideal platform for New Zealand institutions and the ENZ team to meet with key stakeholders, including government and university partners, education agents, and study abroad and pathway providers.
New Zealand's branded pavilion featured the kākahu (garment) created for German student Malina Grube from the I AM NEW campaign, and attracted attention from European and global education professionals.
Alongside their busy schedule of meetings and appointments, the New Zealand representatives also attended a networking event organised by ENZ, which brought together more than 100 key education partners.
Speaking at the event, ENZ Chief Executive Grant McPherson said the value of New Zealand's education relationships in Europe lies in student mobility, and in the quality of the academic relationships between New Zealand and European partners, the strong research and innovation links between us, and the ties these build beyond the education sector.
"I am proud of the many educational partnerships and connections New Zealand's institutions have with European counterparts and globally," he said.