13 February 2023 at 10:00 am
Teaching English in Korea
From a Kiwi summer to a South Korean winter – New Zealand teachers reflect on teaching a short-term English course in South Korea.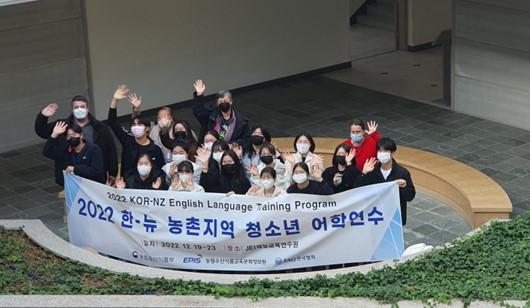 The temperature drop of over 30 degrees, didn't deter Christine Black, teacher from James Hargest School in Invercargill from enjoying a unique opportunity to teach a week-long English programme sponsored by the South Korean government.
Black and two other teachers from New Zealand, Elizabeth Henry from Kowhai Intermediate School, in Auckland and Patsy Richardson, from Te Puke School, in the Bay of Plenty were selected to teach the English programme in South Korea.
The teachers were selected through an application process facilitated by ENZ to teach 15 students from throughout South Korea about New Zealand culture and history at the JEI education centre in Cheonan from 19-23 December 2022.
Through the English Language programme funded by the Korean government, New Zealand teachers were invited to Korea to support Korean school students from rural agricultural backgrounds to extend their conversational and speaking skills. The students also engaged in hands-on classroom activities that included mini science experiments.
The one-off 2022 Korea-New Zealand English Language Training Program was sponsored by EPIS, an agency tasked by the Korean government to support English language training for Korean students and facilitated by Korea FAO Association.
Yoon Cho, Senior Manager of Korea FAO Association, said it was an experience the students will never forget.
"Well before the teachers arrived, they could feel their passion and enthusiasm for meeting students from rural areas in Korea. I would like to thank the New Zealand teachers who took time to visit Korea at the end of December, especially Christmas week, and made meaningful memories for middle and high school students in Korean rural areas," Cho said.
School teacher Christine Black was excited for how her first visit to South Korea broadened her understanding of Korean culture.
"It was exciting to travel there to broaden my understanding of this culture as my high school has international students from South Korea. This definitely was a win-win situation to be able to travel somewhere new to me and also share our New Zealand culture."
As part of the programme, each teacher was responsible for a couple of aspects of New Zealand. Black was responsible for sharing the life of a New Zealand high school student and introduce the different regions of New Zealand and their unique characteristics.
For Patsy Richardson, a teacher at Te Puke School, it was her first time in South Korea, and she introduced waiata to her homeroom group.
"I chose to teach the waiata 'Tutira mai ngā iwi,' with actions. We had three 30-minute slots in which to learn it and they had it perfected. Now whether that is because they are willing and diligent students, or I am such a fantastic teacher, is to be debated. The students also performed the waiata at the closing ceremony [for the programme] and it was a great display of cross-cultural connections," Richardson said.
Despite the short time spent together, it was a great opportunity for the students and teachers to build relationships and cultural understanding between the two countries. The students in Korea were enthusiastic about speaking in English and enjoyed learning some Kiwi slang.
An intermediate school student, Kyungdon Joo, said he studied English and made new friends during the training which gave him a new perspective. "Now I have another goal: To go to New Zealand and learn more about New Zealand."
For Elizabeth Henry, a teacher from the Auckland region, the English teaching programme was more than the opportunity to enhance language skills. Henry recognised the importance of being a cultural ambassador as she was one of the first New Zealanders the students had ever met.
"I was prepared to bring my best teaching practice to this opportunity prior to the trip not realising that once in Korea, the picture of my purpose there was so much bigger than I had anticipated. Not only did I bring my very best teaching practice to all the students I taught, my mindset changed, thinking one day these children will share this experience with their family and friends."
Final reflections
Black reflected on the opportunity it provided for the New Zealand teachers as well as students.
"I think it is really important for teachers to grab opportunities like this, especially as there is more and more diversity in our classrooms, and it is important to get first-hand experience of other cultures."
Henry summed up the English language teaching experience well. She hopes that whenever the students think of New Zealand "a happy memory pops into their mind from this experience."
Education New Zealand Manapou ki te Ao would like to thank North Asia CAPE and regional education bodies for sharing the opportunity with contacts. This was a one-off overseas short-term teaching programme organised by the South Korean government. ENZ will continue to share these opportunities as they arise with education cooperation partners through the CAPE and regional education channels.