24 October 2018 at 9:00 am
Wellington awards recognise inspiring students
Fifteen international and Kiwi students were recognised at the third annual Wellington International Student Excellence Awards held on Friday.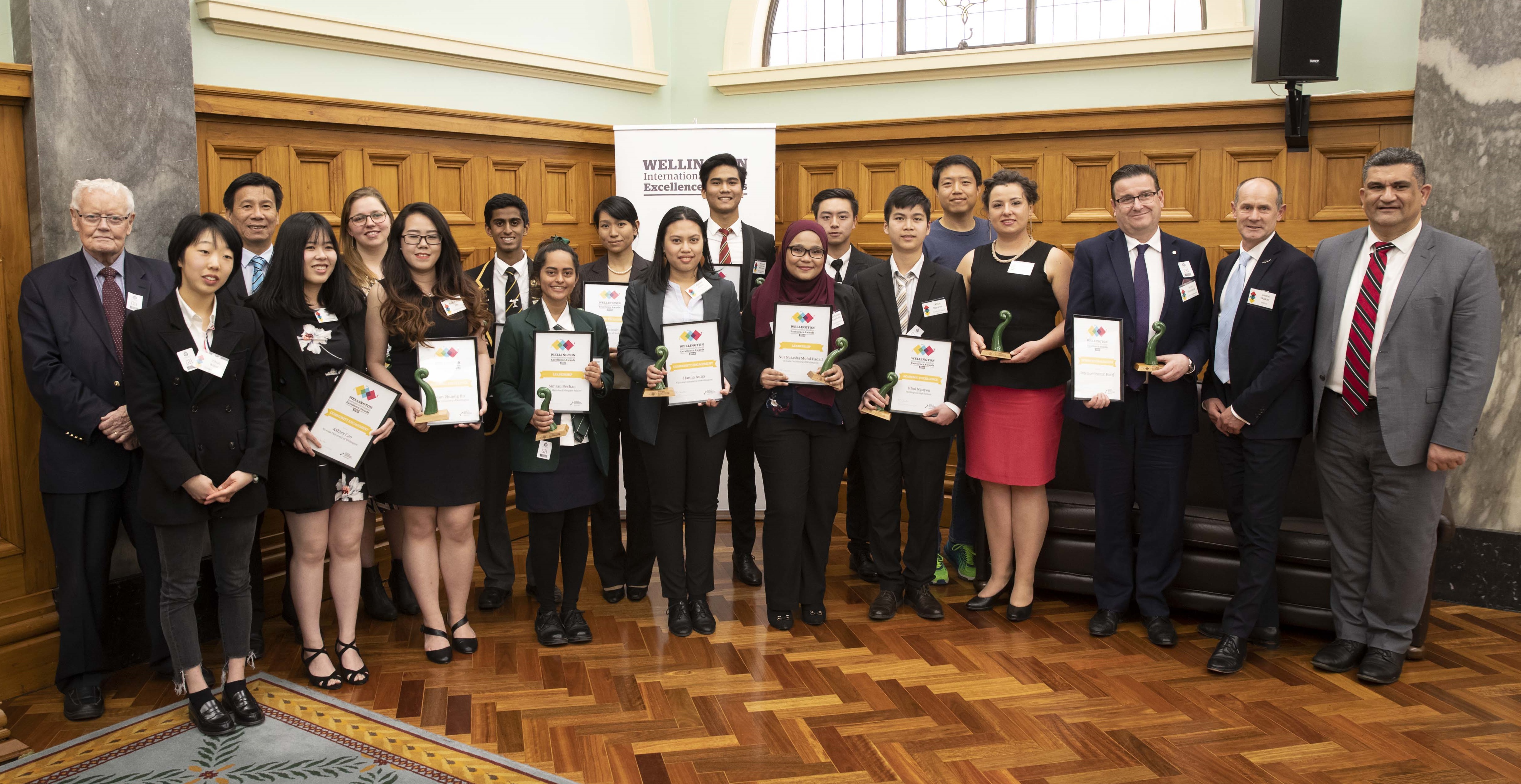 This year's awardees came from intermediate, secondary and tertiary levels, and included the founder of a bilingual tutoring programme for international students, the founder of the Asian English-Speaking Club at Victoria University of Wellington and the official pianist at the 44th International Viola Congress.
They were selected for a range of achievements from academic excellence, community engagement, to leadership and sport, with each winner receiving a trophy, certificate and tickets to a Wellington experience.
MP Paul Eagle, WREDA CEO Lance Walker and WREDA's Talent, Skills and Education Manager, Brook Pannell, were on hand at the ceremony, alongside a group from Wainuiomata High School and Kuranui College who performed Kapa Haka for the guests.
Brook said he was thrilled to be on hand at the ceremony to acknowledge the achievements made by some of Wellington's young talent.
"International students make a powerful impact in their communities, and these awards reflect the great contributions they make in Wellington.
"It's a unique, modern and compact city where international students can feel at home, gain life skills in a safe city, and make friends."
Chinese international student Benjamin Lin, 18, received a Leadership Award for his achievements. As the youngest 'authorised' writer in his home country, he's published two books and opened a writing school to raise money to study at Wellington High School.
"Thanks to my father I loved reading and writing. My teacher at the time encouraged me to publish some of my poetry when I was around 10 in the form of a book. People really liked my work and it gave me the confidence to keep going," says Benjamin.
In 2015, Benjamin decided to progress his education in Wellington, and settled on Wellington High School. He funded his international study by tutoring students in writing.
"I wanted to come to Wellington because it's a smaller, modern city where I could improve my English.
"In Wellington, I've appreciated having more time with my teachers and working on my English," says Benjamin.
Award winners:
Academic excellence
Nam-Phuong Ho, Victoria University of Wellington (Viet Nam)
Yukiko Kuboshima, Victoria University of Wellington (Japan)
Khoi Nguyen, Te Aro School (Viet Nam)
Zihan Wang, Wellington Girls' College (China)
Alumni
Zilong Li, WelTec (China)
Community engagement
Hanna Aulia, Victoria University of Wellington (Indonesia)
Ashley Cao, Victoria University of Wellington (Viet Nam)
Creativity
Gabriela Glapska, New Zealand School of Music (Poland)
Leadership
Benjamin Yin, Wellington High School (China)
Simran Bechan, Samuel Marsden Collegiate (Fiji)
Nur Natasha Faziera Mohd Fadzil, Victoria University of Wellington (Malaysia)
Sports
Mohammad Zahirul Amin Mohd Azam, Victoria University of Wellington (Malaysia)
Internationalisation
Samuel Mathew, Wellington College (New Zealand)
Jordan Anderson, Victoria University of Wellington (New Zealand)
Internationalisation Employer Award
InterContinental Hotel Group
Click here for full details of the winners.
The awards were developed as part of WREDA's Wellington International Student Growth Programme (WISGP), which aims to double the number of international students arriving in Wellington by 2025, enhance the student experience and build pathways to employment in Wellington.