Audience welcomed by kapa haka-NAFSA
The NAFSA Annual Conference and Expo is the largest international education conference in the world, and an important business to business event for education institutions, agents and governments from over 110 countries.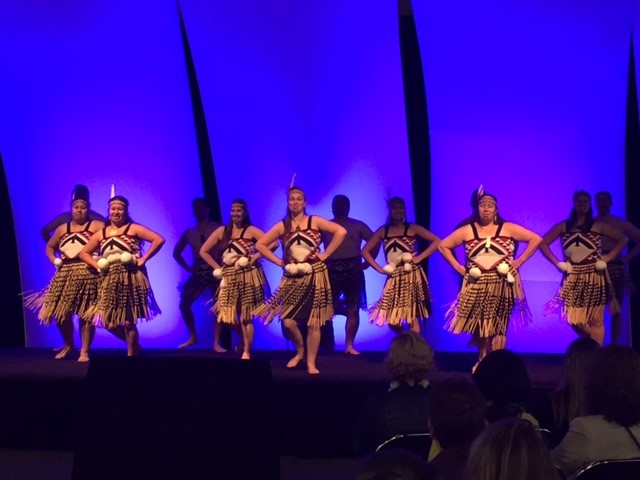 This year the conference took place in Denver, Colorado and through Education New Zealand's (ENZ) stepped-up investment in the conference, an increased profile of New Zealand education opportunities was evident throughout the week.
ENZ's platinum sponsorship of this year's conference provided New Zealand with a speaking slot for the New Zealand Ambassador to the US, Tim Groser, at the beginning of the opening plenary session, a 10-minute performance by Te Tini a Maui, a kapa haka group from Vancouver during the opening plenary, and the screening of a video about New Zealand education at all plenary sessions throughout the conference.
Other sponsorship benefits included the inclusion of flyers in the conference satchels and digital tote bags of the approximately 10,000 registrants, banner advertising in the online conference programme, and the opportunity to showcase New Zealand culture and education opportunities on the expo hall soundstage.
The ENZ-sponsored opening plenary was a very proud moment for all New Zealand representatives, and NAFSA organisers said it would be a hard opening act to follow. A great kapa haka display prefaced by a heart-felt speech by the group leader about the importance of education and people, welcomed over 6,500 delegates into the conference theatre. Ambassador Groser's speech had the audience in turns cheering (a thinly-veiled reference to Trump) and gasping (domestic fees for international PhD students in New Zealand).
The increased New Zealand profile throughout the Expo was notable to New Zealand representatives and delegates alike. "NAFSA 2016 may well go down as the Kiwi NAFSA," said Jason Cushen, Deputy Director International at the University of Otago. "Our booth was widely admired, the New Zealand function on the Tuesday evening was the talk of the conference, the kapa haka performances were show-stoppers and Ambassador Groser's address was well received. As an institution, the University of Otago, couldn't have been happier with how the week went."
ENZ will be a platinum sponsor of NAFSA 2017. If you are interested in discussing opportunities to attend next year's conference, which will take place in Los Angeles at the end of May next year, please contact Amy Rutherford, Director of Education, North America.