15 December 2022 at 11:00 am
BINUS School Serpong wins the KIWI Challenge 2022
BINUS School Serpong has taken out the top prize in the annual Kompetisi Ide Wirausaha Indonesia (KIWI) Challenge Competition in Jakarta, Indonesia.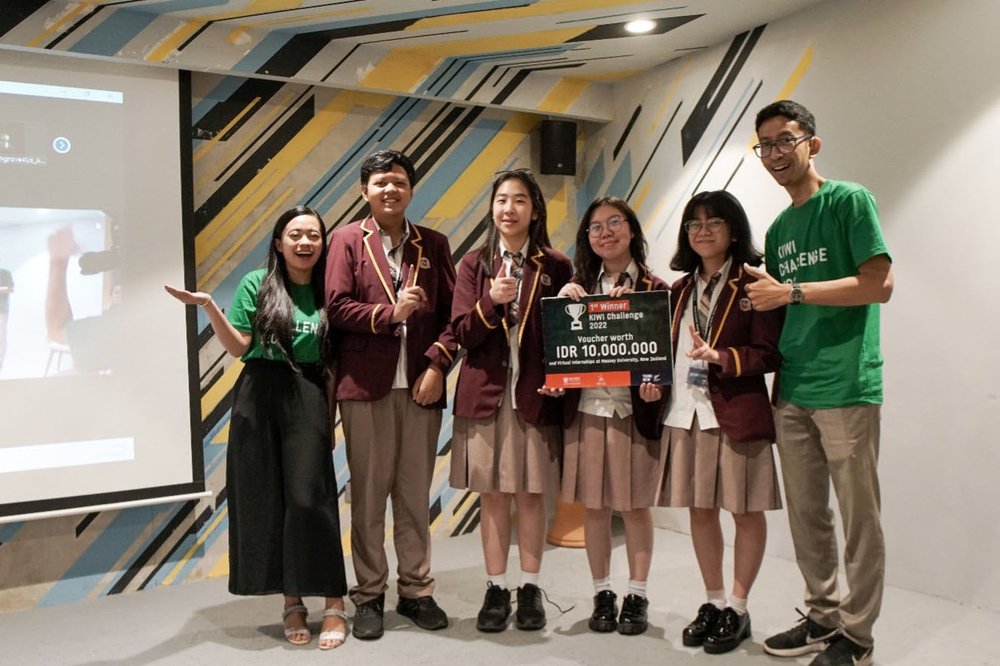 The winning team's 'Beyond Borders' idea involved the development of a travel planning app that streamlines and personalises the travel planning process. The team also had a strong focus on local community engagement and inclusivity across people with different abilities.
The KIWI Challenge is an annual ENZ initiative run in partnership with one of New Zealand's universities. This year Te Kunenga ki Pūrehuroa – Massey University was nominated and chose the topic of sustainable business and entrepreneurship in the tourism industry.
The competition sees participating students from schools across Java and Kalimantan provide an innovative solution or idea on a given theme.
ENZ runs the competition in collaboration with in-market partner, Kopi Tuli (Deaf Cafe), a hearing-impaired community in Jakarta. This partnership is aligned with ENZ's strategic framework to nurture and encourage diversity, equity, and inclusion, while also showcasing sign language as one of New Zealand's official languages.
Education Minister Chris Hipkins officially launched the 2022 KIWI Challenge during his visit to Jakarta in October.
The top prize includes vouchers worth $1,000 NZD with team members being able to undertake a virtual internship with Massey University.
The virtual internship will teach students practical skills to 'take their idea to the world.' Through eight hours of customised supervision from some of Massey's academic marketing experts, students will learn how to add value to their idea and create a digital marketing plan to effectively launch their business solution.
The judging panel included ENZ's General Manager – Marketing and Communications, Geoff Bilbrough; Massey University's Director of Strategic Partnerships, Dr. Jeffrey Stangl; and co-founder of Kopi Tuli, Tri Erwinsyah Putra.
"I was hugely impressed with what I saw today, you [the students] can be very proud of yourselves and feel very optimistic about the future that you have before you," Mr Bilbrough said.
Dr Stangl added, "If the future of the planet is in your [the students] hands, then we're in good shape. Each one of the teams have thought through some very innovative ideas and solutions to problems unique to Indonesia."
This year, the competition had 36 teams from 18 schools across the Java and Kalimantan regions participating with their innovative ideas and business pitching skills to develop their idea and create a 2–3-minute video presentation to submit to the competition.
Five teams were shortlisted to attend the finals, which were held live in-person (Jakarta) and online (Zoom). Finalists then presented their business solution for sustainable tourism, followed by a question-and-answer session with the judging panel.