17 September 2014 at 9:00 am
Brazilian university professors visit
In June this year, the Brazilian president Dilma Rousseff announced the extension of the Science Without Borders (SWB) programme with an additional 100,000 scholarships available from 2015-2018, giving us an opportunity to build on the numbers of Brazilian students coming to New Zealand.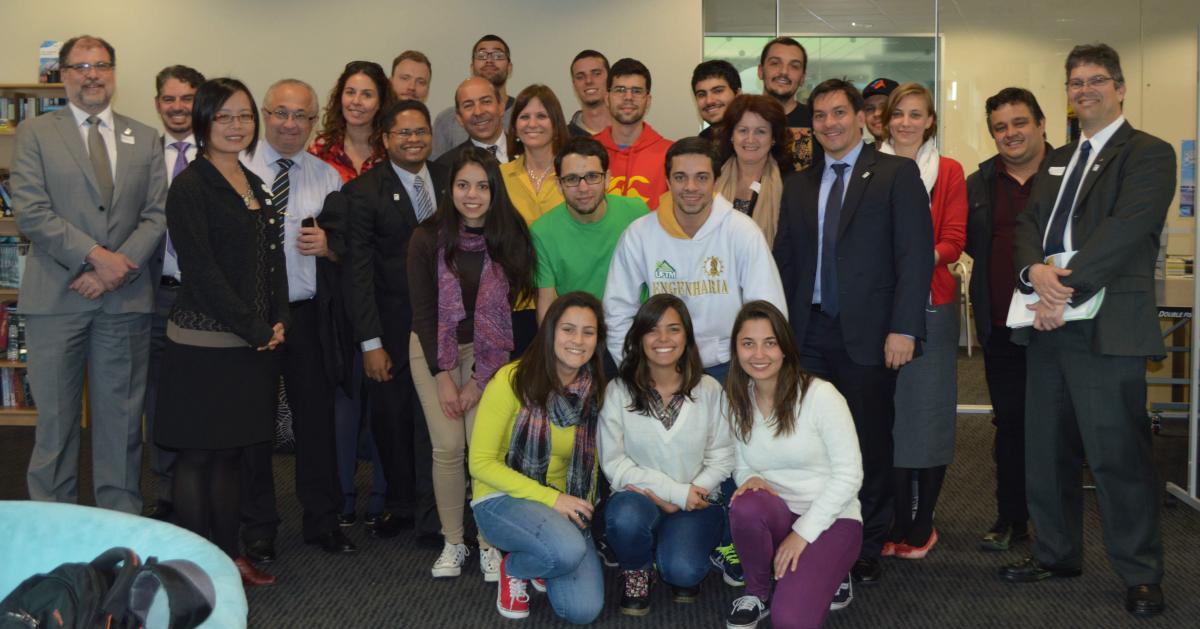 Last month Education New Zealand and MFAT joined forces with Latino New Zealand to host representatives from top Brazilian universities on a visit to New Zealand. The visit aimed to establish institution to institution links between universities of the two countries, to increase the Brazilian institutions' understanding of our universities and to raise our profile in the Science Without Borders programme.
Eight Brazilian universities participated in the visit, including State University of Campinas (UNICAMP), Federal University of Rio de Janeiro (UFRJ), Federal University of Minas Gerais (UFMG) and Paulista State University (UNESP), all ranked in the top 500 in world.
The visiting professors met with representatives from all eight of our universities as well as with ENZ, UNZ and the Brazilian Ambassador in New Zealand. 
This is the first significant contact between the universities of the two countries and all of the participating universities were very keen to establish long-term research linkages with New Zealand institutions. Most of the Brazilian universities represented are well resourced in various areas of research, particularly in areas such as agriculture and plant and animal sciences.
As a result of the visit, ENZ has received invitations to present to some of the universities and one of the professors also offered to join the New Zealand SWB presentation at his university to share his positive experience in New Zealand. Most of the visiting professors have also uploaded photos of their trip on Facebook and their university pages where they will be widely viewed by their contacts and university communities.
Brazil is New Zealand's largest source country for international students in Latin America. Traditionally Brazilian students come to New Zealand for short-term language courses, but in recent years we have seen an increase in the number of students from the school sector, mainly due to the Pernambuco state's Win the World scholarship programme.
Since New Zealand joined the Science without Borders (SWB) scheme in 2013, more than 170 Brazilian students have studied in New Zealand under the undergraduate sandwich programme.
Although the undergraduate sandwich (study abroad) awards take up the majority of the SWB funding, the programme also funds full PhD and sandwich PhD studies. A new Masters programme has also been established and ENZ and UNZ are currently working on New Zealand's inclusion in this programme.
SWB also provides the following awards:
Inbound Fellowships which aim to bring early-career researchers and senior scholars to Brazilian universities and research centres.

Young Talent awards fully fund one to three year research stays in Brazil with an attractive package including round-trip tickets, relocation expenses, a tax-free highly competitive lecturer-level monthly allowance, a contribution toward research costs and funding for research assistantship.

Special Visiting Researcher Programme for joint projects with research groups in Brazil and work in the country for up to three months every year over two to three years. A generous grant is available to researchers including round-trip tickets for every annual visit, a tax-free highly competitive senior-level monthly allowance, a contribution toward research costs and funding for a sandwich PhD at home and a Post-doctoral Fellowship in Brazil.

Offshore Technological and Innovation Development awards that support the participation of Brazilian researchers, specialists and technicians in development and training activities overseas.