24 February 2022 at 9:00 am
Dubai Expo Global Kaitiakitanga winners
A highlight of the ENZ Delegation visit to Dubai was the presence of the Global Kaitiakitanga Project winners at the opening seminar on Sunday 23 January 2022.
The Global Kaitiakitanga Project was a partnership between New Zealand at Expo 2020 and Young Enterprise. With a focus on sustainability, the project provided high-quality business mentoring and international collaboration for young New Zealand innovators. In a seven-month programme from March to September 2021, five finalist businesses were supported to develop and scale their business proposals. Two entries were judged joint programme winners in a Dragons' Den style pitch event in September 2021.  
Four students representing the joint winners, Abalro Health and GreenKiwi Supplements joined guests as New Zealand's Youth Ambassadors as part of their learning about doing business in the Middle East. The students were truly inspirational, and showcased the strengths of a New Zealand education, which encourages students to be critical thinkers, problem solvers and lifelong learners through independent projects and hands-on experience.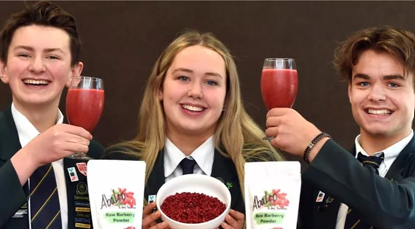 From Bayfield High School in Dunedin, students Robert Donohoe, Abby Green and Alex Livingstone (above) harnessed the power of raw barberries to create a natural supplement to treat acne. Their company, Abalro Health, is the only New Zealand-based company using barberries. Research has shown that barberries reduce acne by 43% in just four weeks.
Max Donaldson (above) of Kerikeri High School drew on his passion for olives to develop a first-to-market, New Zealand grown olive leaf supplement, which can support immune and cardiovascular health from what is normally an industry byproduct. GreenKiwi Supplements is a vertically integrated business developed by Max to pioneer traceable, New Zealand grown olive leaf for the global nutraceutical marketplace.