ENZ launches Future Proof campaign
ENZ's latest marketing campaign showcases New Zealand's education strengths and is already having a big impact around the world.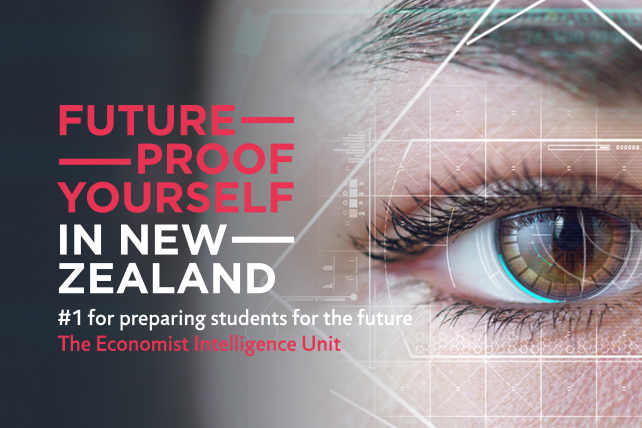 New Zealand was ranked the #1 country in the world for educating students for the future, according to a report by The Economist Intelligence Unit (EIU) released late last year.
On 19 March, ENZ launched an eight-week global campaign to promote the ranking and encourage international students to sign-up to ENZ's database marketing programme.
The first phase of the campaign focuses on awareness. Ten days in, the campaign video has attracted more than 6.1 million views on Facebook and over 1.8 million views on YouTube from the target audience.
Patrick Holden, ENZ's Digital Media Project Manager, said the campaign is part of a robust media framework that ENZ developed in 2017 which can be rolled out globally.
"In the design phase, we used learnings from our previous media activity and leveraged our in-market team knowledge and we're pretty happy with the results we are seeing so far," said Patrick.
"We have also put a lot of work into better understanding our audience's journey – what students first click on, where that leads them, and what other key information they seek.
"This helps us understand what information students connect with, such as the future proof ranking, and what attracts them to study in New Zealand."
The second phase of the campaign will start in April, and will be focussed on converting the audience into enquiries to institutions.
The 'Future proof' campaign integrates ENZ's social communities and digital channels via ENZ's student attraction engine and will be the first campaign integrated with the database marketing platform.
The campaign emphasises New Zealand's strengths outlined in The EIU Worldwide Educating Students for the Future Index, including:
An education system that develops in-demand skills such as critical thinking, creativity, independence and teamwork.
We offer diverse learning experiences inside and outside the classroom, and our practical, hands-on approach teaches students to use their knowledge in real-world situations.
New Zealand is a modern, progressive and open-minded country. The experiences students have here enable them to grow personally as well as academically.
Check out this infographic to find out more about New Zealand's top performance in the index.
To learn more about Future Proof, visit the campaign landing page.