ENZ's new partnership with the Manaaki New Zealand Scholarships Programme
A new partnership between the Ministry of Foreign Affairs and Trade (MFAT) and Education New Zealand Manapou ki te Ao (ENZ) will see ENZ take over operational management of the Manaaki New Zealand Scholarship Programme from November 2022. MFAT will remain responsible for setting the strategic direction and funding the programme.
The Manaaki scholarships represent the government's single largest investment in international scholarships and have been awarded for more than 70 years.
The scholarships are a key pillar of Aotearoa New Zealand's International Development Co-operation, offering more than 1,100 scholarships annually to students from 112 eligible countries to study in Aotearoa New Zealand, in the Pacific, or online.
"This partnership plays to the strengths of both MFAT and ENZ," says Andrew Needs, MFAT Deputy Secretary – Pacific and Development Group.
"It will help us ensure that not only are we demonstrating manaaki to our scholars, but also offering scholarships that address the skills and knowledge requirements of each of our partner countries."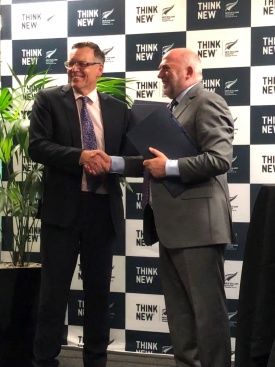 ENZ will participate in joint governance of the programme and provide data and insights to inform investment decisions, as well as operational management, drawing on its expertise in supporting a world-class scholar experience. The partnership offers opportunities to develop closer connections between scholarship partners and tertiary education providers and encourage innovation in product development.
ENZ already manages the Prime Minister's Scholarships for Asia and Latin America as well as scholarships on behalf of the Ministries of Business, Innovation and Employment, and Primary Industries.
"This is an excellent example of 'NZ Inc.' cooperation in action," said Grant McPherson, ENZ's Chief Executive.
Two recent Manaaki Scholars are Aminat Razaq from Nigeria, who has completed her New Zealand studies on sustainable energy – you can read about her experiences here; and Jason Nath from Fiji who completed a Postgraduate Clinical Doctoral Degree in Paediatric Dentistry in New Zealand – you can read about his experiences here.