24 November 2022 at 10:30 am
Hands-on environmental studies for US students
Ecology, sustainability, and environmental science were the focus of a special visit by EcoQuest's international students to the Ramsar wetland at Pūkorokoro Miranda on 28 October 2022.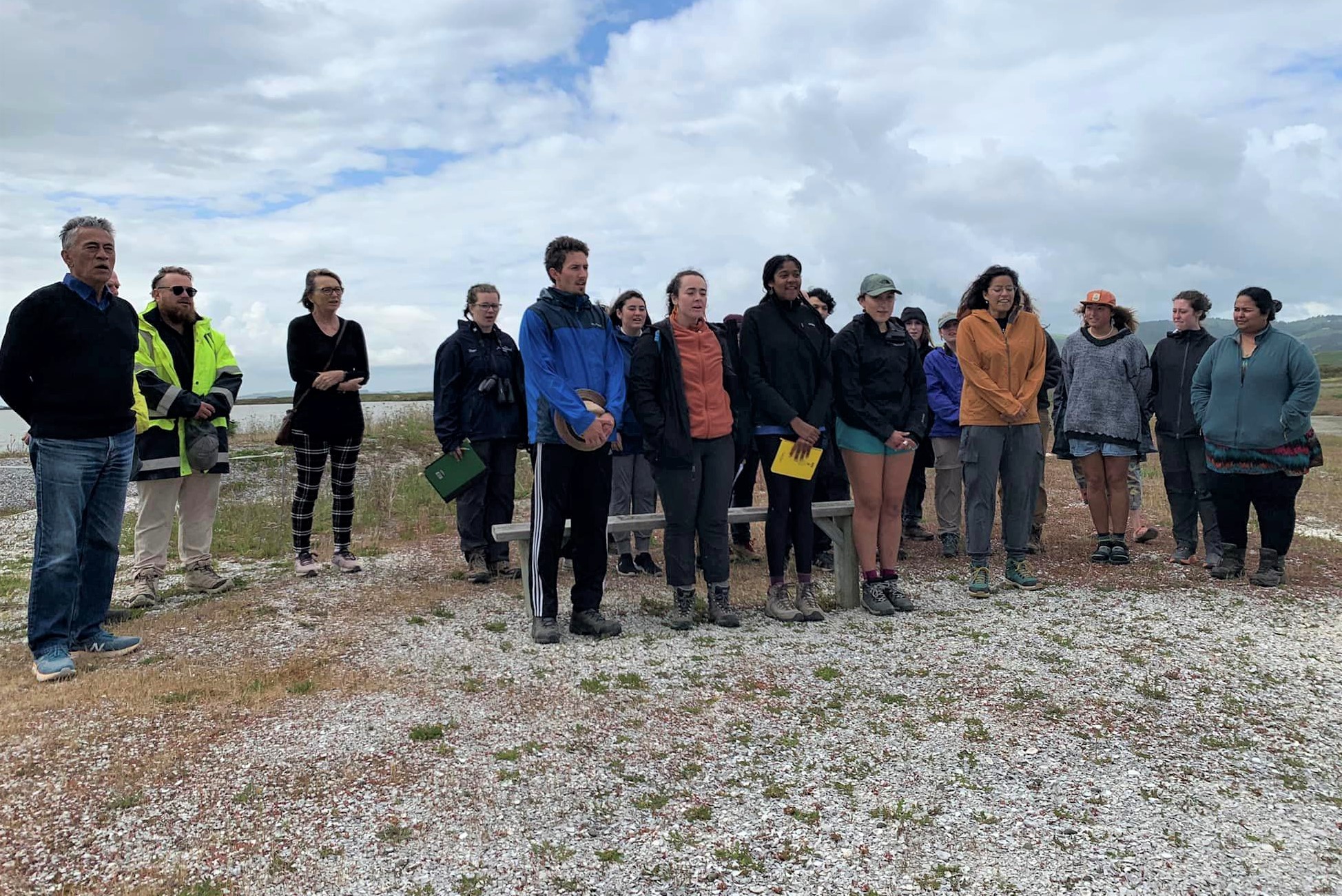 EcoQuest Education Foundation is a charitable trust and PTE based in Whakatīwai, with strong connections to Ngāti Paoa and Ngāti Whanaunga.
"We had a wonderful day on the Wharekawa Coast," says Ria Brejaart, EcoQuest's Academic Director.
"Led by mana whenua, our students welcomed special guests US Consul General Sarah Nelson, Director of USA Study Abroad Heidi Manley, and Senior Education Advisor US Consulate General, Katie Sleeman. EcoQuest's Board of Trustees and academic associates also attended the event, along with other key supporters.
"It was a great way to celebrate both the return of our US students after a long Covid-19 hiatus, and our enduring relationships with our collaborators and supporters. It felt particularly apt to be on the shores of Tikapa Moana, where the kuaka (bar-tailed godwits) return each year from Alaska.
"The morning of observing birds on the shell-banks was followed by a visit to Pūkorokoro Miranda Shorebird Centre, for a talk by Keith Woodley, Centre Manager. We then returned to EcoQuest where we marked the occasion by presenting Tū Ngātahi pins to all our students, on behalf of Education New Zealand Manapou ki te Ao."
The eighteen students are from the University of New Hampshire (UNH), Cornell University, University of Michigan, and Colorado State University. They are participating in a fifteen-week residential semester programme with EcoQuest, which offers undergraduate programmes in partnership with UNH. Students gain credits for their undergraduate degrees back home.
"Within the international education sector, EcoQuest contributes high-quality, niche programmes," says Alana Pellow, Business Development Manager at ENZ.
"These international student programmes align well with New Zealand's areas of excellence in ecology, restoration ecology, environmental policy, and sustainability. EcoQuest students undertake real-time research for many different collaborators including iwi, NGOs and trusts, councils, private land owners and the Department of Conservation. Academic and scientific rigour are the basis for these unique hands-on learning opportunities."
"EcoQuest also contributes to international thinking around indigenous approaches to sustainability, through inclusion of elements of Te Ao Māori and mātauranga in its education and research activities."
The current students are part of Cohort 4, the final cohort of international students to be given entry to New Zealand through a border exception earlier this year. Cohort 4, which was jointly led by ENZ and the Ministry of Education, saw 5,000 international students from 109 different countries nominated for student visas, before New Zealand's borders fully reopened in August.