27 November 2013 at 9:00 am
New resource on the Brand Lab
"Last week I was out speaking, for the third year, at the New Zealand Studies Course at the top-ranked Peking University."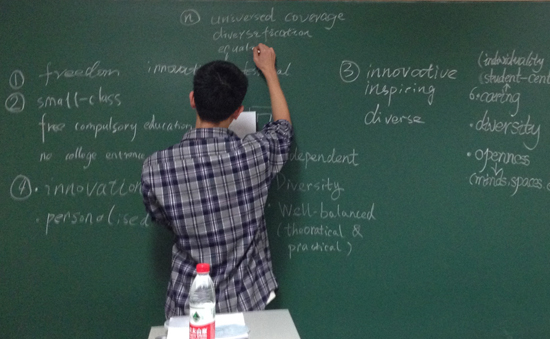 "Peking University's New Zealand Centre (which involves several of our universities and government agencies) runs this undergraduate course which students take to earn foreign language credits (and because of their interest in New Zealand, of course).  Enrolments have grown year-on-year, with 75 students now taking this class.
In the past, I have delivered a more academic lecture on New Zealand's education system, including on policies and reform.  And in the past, this has been met with glazed eyes.  So in a break with tradition I decided to make the session more interactive and incorporate some of the tools we now have at our disposal.  I gave an informal "why study in New Zealand" presentation, then moved on to showing the New Zealand Story and New Zealand Education Story.
We then broke into small groups (just like we do in New Zealand classrooms and tutorials), and students worked on the task I had set:  to discuss and agree on "what three words best exemplify what is 'special' about New Zealand education."
And I was blown away by the responses.  Each group came up to write its words on the blackboard, and common themes included innovation, openness, diversity, inspiring, and opportunity.  Our messaging is clearly resonating.
After then watching some of ENZ's Gibson Group-produced Dragons in a Distant Land alumni episode (and remembering far too late that I have a cameo in it), I asked each group to explain its three words.  And again – I was blown away.  The willingness of these students to contribute their thoughts and to ask questions – in English, in public - with a second member from one group even volunteering additional thoughts – really impressed me.  The course coordinators were also very pleasantly surprised. 
As products of New Zealand's education system, volunteering our thoughts, asking questions and speaking in public come naturally to us.  This isn't so in every education system.  
Almost best of all, the course was that day being audited by a very senior Peking University Professor.  She stood up at the end and said, "I did my PhD in economics at the University of Chicago.  After today, I want my grandchild to go and study in NZ".
I always give the class my email address, and as of right now have received five enquiries from these students at China's top-ranked university.  I have also had to courier additional blocks of Whittaker's chocolate.  Each of the nine groups deserved a prize.
A Chinese subtitled version of the New Zealand Education Story is now available on the Brand Lab, so I encourage you to use this when next in China or hosting Chinese visitors."